How hard is the water in Surbiton?
Water hardness reading:
280 ppm (very hard)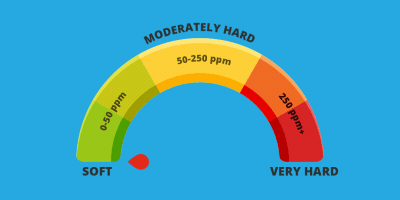 Water is considered hard if you live in Surbiton. Here's why.
For residents of Surbiton in Surrey, like much of the south-east of England, hard water is everywhere! It isn't the way the water is treated that makes it so hard. It is actually to do with the underlying soil. Much of the region sits on chalk and clay soil, which is abundant with calcium and magnesium minerals.
Although rainwater is soft when it falls, when it comes into contact with the soil, these minerals make the water become hard. That's nature for you! For those living in Surbiton, the most effective way to overcome hard water is to have a water softener installed in your home or business premises. Soft water is far better to wash in, it's kinder on one's hair and skin (preventing dryness) and laundry loves softened water, too!
In addition, soft water will stop the build-up of limescale in your pipework and household appliances, like washing machines, dishwashers and kettles. It's also beneficial for keeping kitchen and bathroom surfaces clean, plus your central hearing system will work much more efficiently with softened water – in turn, helping reduce your energy bills.
The water hardness measurement for Surbiton is about 280 parts per million (ppm). This changes a little depending on the rain frequency. That said, any reading over 200ppm is classified as hard. Therefore, at 280ppm, Surbiton's water is amongst Surrey's hardest water.
Annual rainfall: 24.60inch or 625mm.

Surbiton is a classic suburban town, situated in the Royal Borough of Kingston upon Thames, next to the River Thames and around 11 miles from central London. Since 1965, it has been part of Greater London.
Surbiton possesses a mixture of grand 19th-century townhouses, Art Deco courts and, more modern residential buildings that blend with semi-detached 20th-century housing. As recently as 2016, the population of Surbiton stood at 45,132.

Local bus services provide links to Chessington, Kingston, Twickenham, Hounslow, Epsom, Leatherhead, Dorking, Cobham, Staines, Weybridge and Guildford. The present-day railway station has an impressive art deco façade, which featured in the 2009 film version of Harry Potter and the Half-Blood Prince.

Surbiton is fondly remembered as an icon of suburbia in British television comedy classics like The Good Life (starring Richard Briers, Penelope Keith, Paul Eddington and Felicity Kendal) and John Sessions and Phil Cornwell's series Stella Street.
Mains and Drinking Water in Surbiton
The mains water and sewerage services for residents and businesses in Surbiton is under the direction of Thames Water.
Interested in learning more about a water softener installation in Surbiton?
Water softness of nearby locations
A water softener will give you...