How hard is the water in Bognor Regis?
Water hardness reading:
280 ppm (very hard)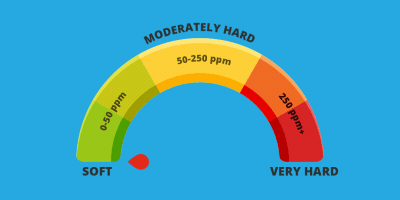 What makes the water so hard in Bognor Regis?
Like so many parts of the south of England, especially along the coast, the soil in and around Bognor Regis is super chalky! This has the effect of making the water extremely hard – and Bognor is no exception. 
The more rain that falls, the harder the water tends to become. Despite these fluctuations, the water hardness level for Bognor Regis averages out at around 280 ppm (parts per million). 
Bognor Regis – an Overview
Annual rainfall: 36.5 inch or 928 mm 
A traditional holiday resort, Bognor Regis is one of the best-known coastal towns in West Sussex, situated 24 miles west of Brighton, about 6 miles southeast of Chichester and 16 miles east of Portsmouth.  The population of the built-up Bognor area, including the outlying areas of Felpham, Aldwick and North and South Bersted, was 63,855 at the 2011 census. 
Bognor was never known as Bognor Regis until the late 1920s when King George V, in ailing health, came to appreciate the benefits that the town's sea air had to offer. From that point on, Bognor gained royal consent – hence the Regis suffix.  
The town is perhaps best known as the home of Butlins, the largest seaside holiday centre in the south of England, which has been present in Bognor since the early 1930s. 
Meanwhile, notable luminaries of Bognor include Bruce Welch (of The Shadows), Cynthia Payne the brothel keeper and Sir Richard Hotham, the 18th century property developer and politician who was instrumental in developing Bognor Regis into a seaside resort. 
Mains and Drinking Water in Bognor Regis
Bognor Regis is in the Arun District, due to the proximity of the nearby River Arun.  The mains water supply in the eastern part of the district is supplied by Southern Water and the western half comes from Portsmouth Water.  A limited number of properties in the Bognor area have a private water supply from either wells or boreholes.
Interested in learning more about a water softener installation in Bognor?
Water softness of nearby locations
A water softener will give you...