How hard is the water in Ewhurst?
Water hardness reading:
284ppm (very hard)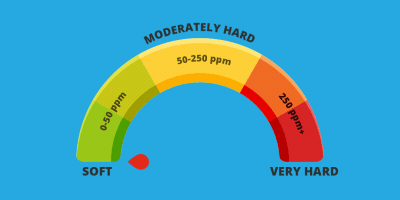 Ewhurst residents experience hard water in their taps
Whether you like it or not, if you live in Ewhurst you'll be experiencing hard water in your home. Unless you have a water softener, of course! It's not because the rain that falls locally is hard – it isn't. In fact, it's extremely soft in its purest form. But when rainwater reaches the ground, things change. Like so many parts of Surrey, the underlying soil is predominantly composed of chalk or clay, which is full of minerals like calcium and magnesium. These minerals make the water hard and that's how it stays when it flows through your mains supply. That's why so many people living in the Ewhurst area have soft water systems installed.
The water hardness measurement for Ewhurst is normally about 284 parts per million (ppm). It does vary a little, depending on the amount of rainfall there is. The more rain that falls, generally the harder the water. Incidentally, any reading over 200ppm is deemed to be hard. That figure will drop right back to zero with a water softener in place.
Annual rainfall: 13.66inch or 347mm.
Ewhurst is a rural village in the Surrey borough of Waverley, 8 miles south-east of Guildford, 2 miles east of Cranleigh and 4.5 miles south of Shere.
The parish includes the smaller hamlets of Ellen's Green and Cox Green which are very close to the West Sussex border. Just north of Ewhurst is Hurt Wood, part of the Surrey Hills Area of Outstanding Natural Beauty. The remainder of the parish boundaries are classified as an Area of Great Landscape Value.
Within the village is Sayers Croft, a former evacuee centre and now an outdoor and environmental education hub. In its 70-year history, it has welcomed over half a million visitors. Ewhurst is also home to Hurtwood Polo Club, owned by the former Small Faces and Who drummer, Kenny Jones. The Club hosts both polo and a number of big music events throughout the year.
Mains and Drinking Water in Ewhurst
The mains water and sewerage services for Ewhurst come under the authority of Thames Water.
Interested in learning more about a water softener installation in Ewhurst?
A water softener will give you...