How hard is the water in Middleton on Sea?
Water hardness reading:
280 ppm (very hard)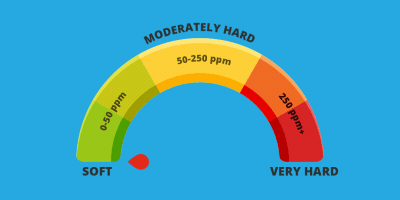 Here is why the water in Middleton-on-Sea is classed as hard

If you live in Middleton-on-Sea, like the rest of Sussex and much of the south of England, then you will be subject to hard water. The water didn't start out that way but, when it flows out of your taps, it will be right up there in terms of the water hardness scale. The reason why it becomes so exceptionally hard is all down to the soil.
Along a large swathe of the south-east coastline, the soil is chalky. Whilst rainwater is soft, when it meets the chalky underlay containing minerals like calcium and magnesium, this has the effect of turning the water hard. The most effective way to combat this is to have a water softener installed. Unsurprisingly, many households in the area have decided that's the best way to go!
The water hardness level in Middleton-on-Sea is approximately 280 parts per million (ppm). Water that is over 200ppm is classed as hard. At 300ppm, it is deemed to be exceptionally hard. The more it rains, the tendency is for the hardness level to increase.
Middleton-on Sea – an Overview
Annual rainfall: 34.2inch or 868mm
Middleton-on-Sea is a coastal village in the Arun District of West Sussex, just to the east of Bognor Regis and neighbouring Felpham, also comprising the areas of Elmer and Elmer Beach. In the 2011 census, Middleton-on-Sea's population stood at 5,077.
"The Beresford Arms", the village pub, is named after Viscount William Beresford. He was a distinguished General in the British Army, as well as a commander of the Portuguese armed forces.
Mains, drinking water & sewage services in Middleton on Sea
The mains water and sewerage services in Middleton-on-Sea are supplied by Southern Water.
Interested in learning more about a water softener installation in Middleton on Sea?
Water softness of nearby locations
A water softener will give you...