How hard is the water in Walton-upon-Thames ?
Water hardness reading in Walton-upon-Thames :
280 ppm (very hard)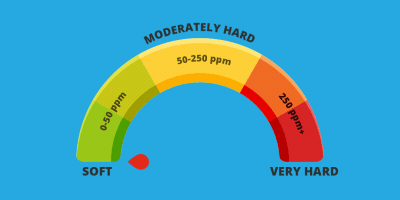 Why is the water in Walton-upon-Thames so hard?
Across large parts of southern England, the water is known to be hard. And Walton-upon-Thames is right in the thick of it! The reason for the water hardness is primarily because of the soil.
In Surrey, as with most of the south-east, the underlying soil is comprised of clay and chalk, which contains an abundance of magnesium and calcium minerals. Whilst rainfall is naturally soft, when it seeps into the soil, the magnesium and calcium minerals turn it hard. There's nothing that can be done about it – unless you have a water softener installed in your property.
Water softeners are the most effective way to remove that horrible limescale which hard water causes, along with dry skin and hair, and laundry that goes starchy and lifeless after a few washes. Limescale also leads to the decay of household appliances, like dishwashers and washing machines.
In Walton-upon-Thames, the water hardness reading is 280 parts per million (ppm). Although this figure can alter slightly according to how much it rains, even so, measurements over 200ppm are considered to be hard.
So, at approximately 280ppm, Walton-upon-Thames is heading towards the top of the water hardness charts.
Walton-upon-Thames – an Overview
Annual rainfall: 11.97inch or 304mm.
The market town of Walton-on-Thames, known locally as Walton, lies on the south bank of the Thames in the Elmbridge borough of Surrey. It forms part of the Greater London built-up area and has a wide range of transport links in and out of the capital. Consisting mainly of affluent suburban streets with a historic town centre, in the 2011 Census, Walton-on-Thames had a population of 22,834.
Walton-on-Thames railway station provides 4 trains per hour to London and there are regular bus services to nearby towns, like Kingston upon Thames, Weybridge, Shepperton, Hersham and Molesey.
In its history, six versions of Walton Bridge have crossed the Thames, each heading west towards Shepperton. The most recent was completed in the summer of 2013. Julie Andrews was born in Walton and the former US Secretary of State, Madeleine Albright, lived in the town during World War II.
Mains and Drinking Water in Walton-upon-Thames
The mains water and sewerage services for Walton-upon-Thames are supplied by Thames Water.
Interested in learning more about a water softener installation in Walton-upon-Thames ?
Water softness of nearby locations
A water softener will give you...