How hard is the water in Lavant?
Water hardness reading:
280 ppm (very hard)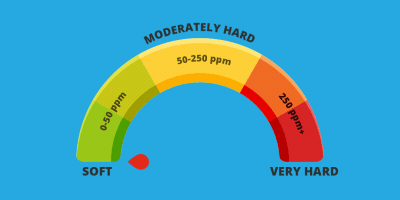 If you live in Lavant, your water will be hard
The Lavant villages in West Sussex are renowned for having hard water – just like so many parts of the south-east. This is because the area sits upon soil that is very chalky. When the heavens open, the rainfall permeates the underlay, which is full of minerals like calcium and magnesium that react with the water, turning it hard. This is why you find so many households in Lavant and the surrounding areas choosing to install water softeners, so they don't have to put up with hard water all the time!
For residents of Lavant, the water hardness level doesn't make particularly good reading. Its registers around 280 parts per million (ppm) which is getting towards the high side of things. For clarification 300 ppm is considered exceptionally hard. The level would have to be below 100ppm to be deemed as soft. This would only be possible to achieve with a water softener in situ.
Annual rainfall: 36.5 inch or 928mm
Lavant is actually three separate villages (Mid Lavant, West Lavant and East Lavant) that are located 2 miles north of Chichester and close to Goodwood. The name is taken from the River Lavant, which flows from East Dean to Chichester. The main A286 between Chichester and Midhurst A286 runs through the parish.
West Lavant is small and pretty, including Lavant House School and its stables. East Lavant has a Norman church, some lovely properties and a superb 2 mile walk up Chalk Pit Lane to the top of the Trundle. Here, there are terrific views of the coastal plain from Littlehampton across to Southampton and the Isle of Wight and, looking northwards, to the Downs and Goodwood Racecourse.
Mains, Drinking Water & Sewerage Services in Lavant
Lavant's mains water supply comes from Portsmouth Water.
Interested in learning more about a water softener installation in Lavant?
Water softness of nearby locations
A water softener will give you...