How hard is the water in Fareham?
Water hardness reading:
278 ppm (very hard)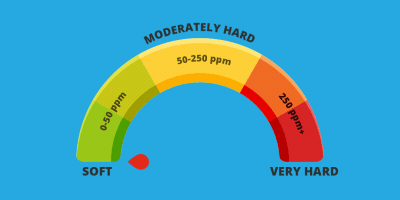 If you live in Fareham, you'll be experiencing hard water!
For residents of Fareham, things are no different to the rest of Hampshire and most of the south-east of England, in that hard water flows through the taps! The reason for this is not because rainfall produces hard water, or that the water companies treat it in a certain way – it's due to the soil beneath our feet.
Fareham sits on soil which comprises largely chalk and limestone. This contains an abundance of magnesium and calcium minerals. Once naturally soft rainwater reaches the soil, these minerals have the effect of turning the water hard.
For homeowners in Fareham, who don't like hard water in their mains supply all the time, the smart option is to get a water softener. The benefits are plentiful and immediate. Skin and hair love soft water, because it doesn't dry them out, leaving them looking and feeling silky and vibrant. Softened water is also great for laundry because it doesn't leave clothes and towels feeling crispy and drained of colour.
Water softeners are highly efficient at repelling dreaded limescale build up, which occurs in pipework and household appliances with hard water around. Washing machines and dishwashers also prefer soft water, whilst it makes cleaning kitchens and bathrooms so much simpler. You'll also spend less on cleaning products. What's more, with soft water flowing through the system, you'll save on your energy bills, since household central heating works much more effectively when not constantly battling against pipework that's blocked up with energy-reducing limescale.
The water hardness level for Fareham registers around 278 parts per million (ppm). Given that any reading over 200ppm is deemed to be hard, Fareham is positioned around the high end of the water hardness league table.
Annual rainfall: 23.03inch or 585mm.
The market town of Fareham lies at the north-west tip of Portsmouth Harbour, between the cities of Portsmouth and Southampton. Historically, it was a major manufacturer of bricks, which were used to build the Royal Albert Hall in London.
Fareham is well served by road and rail networks. The M27 motorway is close by, providing easy access to both Portsmouth and Southampton, and from there to London via the M3 and A3(M). In July 2014, Fareham was named the most car-dependent town in the UK by the Office for National Statistics, with 538.7 cars registered to addresses in the town for every 1,000 residents.
The pedestrianised West Street in the town centre is home to a permanent exhibition of the work of 12 blacksmith artists celebrating the achievements of Henry Cort, the 18th century 'man of iron'. He pioneered the iron refining process at Funtley near Fareham.
Mains Drinking Water and Sewerage Services in Fareham
In Fareham, the mains water supply and sewerage services are provided by Southern Water.
Interested in learning more about a water softener installation in Fareham?
Water softness of nearby locations
A water softener will give you...