How hard is the water in Cranleigh?
Water hardness reading:
282ppm (very hard)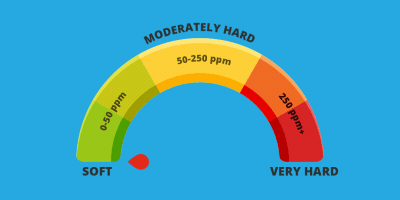 What is the reason the water in Cranleigh so hard?
You can blame it all on the rain – but that doesn't tell the whole story. This is because when water falls as rain, it is actually soft. The problem is what happens after it touches the ground. And here's why. In Cranleigh, as like the rest of Surrey and large parts of the south of England, the soil beneath our feet is largely comprised of chalk or clay. This type of soil contains an abundance of magnesium and calcium minerals. When rainwater seeps into the soil, the magnesium and calcium have the effect of turning the water hard. And that's how it will always be when it flows through your mains system – unless you have a water softener installed, which will solve the problem of perpetual hard water for good.
In Cranleigh, the water hardness measurement is generally around 282 parts per million (ppm). Anything over 200ppm is considered hard and the closer you get to 300ppm, the more you need to be thinking about wearing a tin hat in the shower. With a water softener fitted in your home, the ppm reading will plummet to virtually zero.
Annual rainfall: 23.90inch or 607mm.
Cranleigh is a village in Surrey, about 8 miles southeast of Guildford and 6 miles east of Godalming. It is located just off the main A281 Guildford to Horsham road, on the north-west edge of the Weald.

The village is drained by Cranleigh Waters which flows to Shalford before joining the River Wey at Peasmarsh. As well as being a satellite for Guildford, with three supermarkets, two national banks and various other shops, Cranleigh acts as a retail centre for the surrounding villages. Plant and food nurseries locally provide a substantial amount of local employment.
Mains and Drinking Water in Cranleigh
Residents of Cranleigh rely on Thames Water to provide their mains water and sewerage services.
Interested in learning more about a water softener installation in Cranleigh?
A water softener will give you...