How hard is the water in Chertsey?
Water hardness reading:
282 ppm (very hard)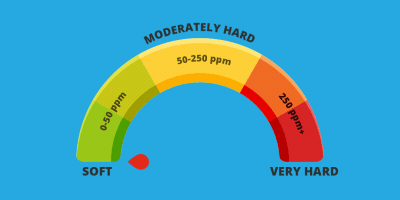 Living in Chertsey means you will have hard water. Here is why.
If you live in Chertsey, like the majority of southern England, you'll be no stranger to hard water. Although not dangerous, it can be irritating. Water companies often get the blame for hard water, but this is unfair criticism. The cause of hard water actually lies under our feet – in the soil. Beneath Chertsey, the soil is mainly of clay – and clay contains an abundance of calcium and magnesium minerals.
Although rainwater is soft when it falls, when it reaches this mineral containing soil, this has the effect of turning the water hard. If you live in Chertsey, the best way to combat hard water – and to ensure you have lovely soft water flowing consistently through your taps – is to have a water softener fitted. Soft water is one of life's great pleasures! It's far kinder on skin and hair when you take a shower or have a bath, as it protects against dryness and combats skin conditions, like eczema.
Laundry, too, reacts much better to soft water flowing through the washing machine. It will feel far less starchy and retain colour and vibrancy for far longer. Soft water also gets rid of limescale, which is a pest for keeping kitchen and bathroom surfaces clean and shiny looking. Softened water also stops pipework getting caked in scale over time, which will help protect appliances and save money on energy bills and cleaning products.
Chertsey's water hardness measurement is about 282 parts per million (ppm). This can vary a little, according to the amount of rainfall. Nevertheless, any reading above 200ppm is said to be hard. And at 282ppm, the mains water supply in Chertsey is heading towards the high end of the hardness scale.
Annual rainfall: 23.9inch or 607mm.

The town of Chertsey, part of the London commuter belt, is situated in the Surrey Borough of Runnymede, 18 miles south-west of central London, 1.6 miles from Addlestone and about 11 miles from Guildford. Chertsey town centre is a conservation area. It lies on a floodplain terrace, with the River Thames to the north and The Bourne to the south.
Chertsey Bridge, across the Thames, is known as a Scheduled Ancient Monument and Grade II listed structure that has a low weight limit and narrow carriageways that are unsuitable for HGVs. On the Middlesex side of the bridge is the Thames Path National Trail and Chertsey Lock. The town is within the M25, accessible via junction 11. There is also an excellent train service from Chertsey into London Waterloo.
Mains, drinking water & sewage services in Chertsey
If you live in Chertsey, the mains water and sewerage services are provided by Thames Water and the Sutton and East Surrey Water Company.
Interested in learning more about a water softener installation in Chertsey?
A water softener will give you...