How hard is the water in Worthing?
Water hardness reading in Worthing:
280 ppm (very hard)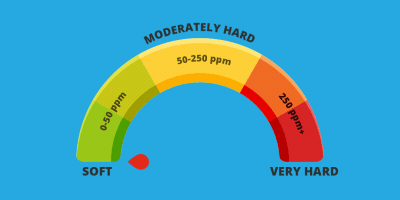 Why is the water in Worthing so hard?
Like many parts of the south of England, the soil in and around Worthing is extremely chalky. In fact, Worthing is situated on a mix of two beds of sedimentary rock, with large parts of the town being built on top of chalk.

Whilst it depends on the amount of rainfall, which means there is some yearly variation, Worthing's water hardness is usually registered at around 280 ppm (parts per million).
Annual rainfall: 29.96 inch or 761 mm 
Worthing is your archetypal seaside town, situated at the foot of the South Downs, 10 miles west of Brighton and 18 miles east of Chichester. With a population of approximately 110,000, it's the 29th largest town in the UK.   
With far reaching views across the Channel and situated midway between the Rivers Arun and Adur, whether you prefer seawater or freshwater, Worthing has an abundant supply! 
Renowned as an elegant and wealthy Georgian resort, the town's distinctive Art Deco pier (originally constructed in 1862) was named the best in Britain as recently as 2019. People travel from far and wide to climb up to Cissbury Ring, the Iron Age Fort which overlooks the borough. 
A centre for the service sector, especially financial services, Worthing is also regarded as one of Britain's main market gardening centres. Meanwhile, the writer, Oscar Wilde, wrote 'The Importance of being Earnest' whilst in residence and Game of Thrones actress, Gwendoline Christie, was born in Worthing in 1978. She portrayed Brienne of Tarth.
Mains and Drinking Water in Worthing
The mains water supply comes from Southern Water who carry out extensive monitoring to ensure that it is safe to drink. There are no private water supplies in Worthing.
Interested in learning more about a water softener installation in Worthing?
Water softness of nearby locations
A water softener will give you...