How hard is the water in Botley?
Water hardness reading:
282 ppm (very hard)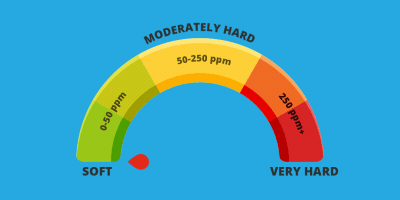 If you live In Botley, the mains water will be hard. Here's why.
Living in Botley means that you are going to be subjected to hard water flowing through your taps. Like the rest of Hampshire and much of the south-east of England, it's the same old story. The reason for the prevalence of hard water isn't to do with the way water companies treat the water, it's actually down to nature – the soil beneath our feet, to be precise.
Botley lies on soil largely consisting of chalk and limestone, which is full of magnesium and calcium minerals. Rain in its pure state is soft water but, after reaching the soil, the calcium and magnesium components get to work and turn the water hard.
For homeowners in Botley, who aren't especially keen on receiving hard water all the time in their mains supply, the best approach is to opt for a water softener. Water softeners provide so many benefits, which you'll notice straightaway. For a start, skin and hair respond well to soft water; it doesn't dry them out, instead ensuring they look vibrant and feel silky to the touch. Softened water is also very handy for laundry. Clothes and towels don't feel starchy and drained of colour with soft water flowing through the washing machine.
Water softeners are also extremely effective at stopping the build-up of limescale. This is an inevitability with hard water; over time, it's guaranteed to clog up pipework and household appliances when in continuous use. Dishwashers and kettles perform far better with soft water and you'll discover that cleaning kitchens and bathrooms is much easier, producing better results. You'll also retain more of your hard-earned money with soft water. That's because central heating systems function far more effectively, use less energy and last for years longer than if continuously battling against hard water-induced limescale.
Botley's water hardness measurement is 282 parts per million (ppm). Since any reading above 200ppm is considered hard, Botley's reading is significant. That's why local homes deserve soft water!
Annual rainfall: 18.98inch or 482mm.
Botley is a historic village in southern Hampshire, close to Southampton, described as "the most delightful village in the world" by the 18th century journalist and radical politician, William Cobbett. Botley developed as a natural crossing point for the River Hamble and the village developed around the success of its mill, coaching inns and, more recently, one of our favourite fruits – strawberries!
Modern-day Botley, with a population of just over 5000, reflects its heritage and retains much of its traditional charm. There's a self-guided Cobbett walking trail, with refreshment stops along the way, whilst visitors can flock to the village's delightful range of shops in the Square and Botley Mills.
Mains Drinking Water and Sewerage Services in Botley
The mains water and sewerage services for Botley are undertaken by Southern Water.
Interested in learning more about a water softener installation in Botley?
Water softness of nearby locations
A water softener will give you...