How hard is the water in Durrington?
Water hardness reading:
240 – 280 ppm (very hard)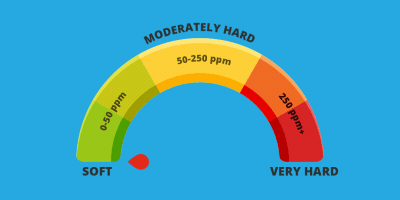 The drinking and tap water in Durrington are very hard. Here's why:
As with most areas in the south of England, Durrington experiences hard water. The reason for this is that when rainwater comes into contact with the chalky undersoil, the main minerals it contains, notably calcium and magnesium, have the effect of hardening the water.
The water hardness reading for Durrington ranges between 240 and 280 ppm parts per million). Anything over 200 ppm is considered hard, meaning that Durrington measures towards the top end of the hard water scale.
The best way to combat hard water coming through your mains is to install a water softener!
Annual rainfall: 29.96 inch or 761 mm
Durrington is a thriving neighbourhood on the outskirts of Worthing. It is situated close to the main A27 trunk road about 2 miles north-west of the main town centre. The name Durrington means 'Deora's farmstead', believed to be the name of an early Saxon settler. Since the early 90s, Durrington has played host to the community-led Durrington Festival.
The musician, Billy Idol, attended Durrington High School.
Mains, drinking water & sewage services in Durrington
The drinking water for homes in Durrington is supplied by Southern Water. It is a little-known fact, but the village of Durrington started receiving mains water supply in 1894 – ahead of its neighbouring parishes – thanks to the then West Worthing Waterworks Company's reservoir opening, close to the Brighton to Chichester road.
Interested in learning more about a water softener installation in Durrington?
Water softness of nearby locations
A water softener will give you...