How hard is the water in East Horsley?
Water hardness reading:
278 ppm (very hard)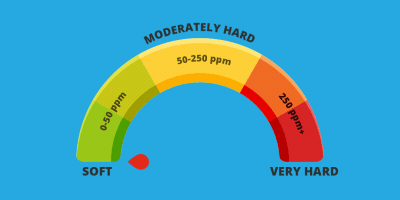 If you reside in East Horsley, your tap water is going to be hard.
Like so much of the south of England which experiences hard water, East Horsley is no exception! It's primarily down to the soil. In Surrey and elsewhere in the south-east, the soil is primarily of chalk and clay, which features plenty of minerals like magnesium and calcium. Rainfall is naturally soft. However, once the rainwater reaches the soil, the magnesium and calcium immediately get to work and make the water hard. And that's the way it will stay – unless you have a water softener fitted in your property. Water softeners are the best way to remove limescale and all the adverse effects associated with hard water, like dry skin and hair, starchy laundry and the damaging build-up of scale in pipework and appliances.
East Horsley has a water hardness reading of approximately 278 parts per million (ppm). It does go up and down a little according to the amount of rainfall but, even so, any measurement over 200ppm is considered hard. So, at 276ppm or thereabouts, East Horsley is subjected to exceptionally hard water most of the time.
East Horsley – an Overview
Annual rainfall: 22.36inch or 568mm.
East Horsley is a commuter village in Surrey, 21 miles southwest of London on the A246 between Leatherhead and Guildford. In the 2011 census, East Horsley had 1,343 detached homes. It was reported as being Britain's "richest village" by The Daily Telegraph in 2011 and again in 2015.
The village is the site of Horsley Towers, a gothic mansion designed by Sir Charles Barry who later became the architect of the Houses of Parliament). In 1784, it was owned by William Currie, a distiller and banker, who over a period of 44 years made extensive changes to the village, which included rebuilding many of its houses, setting up a local school and restoring the church.
Decades later, it became the marital home of Ada, Lady Lovelace, the writer, mathematician and world's first computer programmer and then later it was owned by the aviation pioneer, Sir Thomas Sopwith.
Mains, drinking water & sewage services in East Horsley
In East Horsley, it is Thames Water who provide the mains water and sewerage services.
Interested in learning more about a water softener installation in East Horsley?
Water softness of nearby locations
A water softener will give you...