How hard is the water in Eastleigh?
Water hardness reading:
282 ppm (very hard)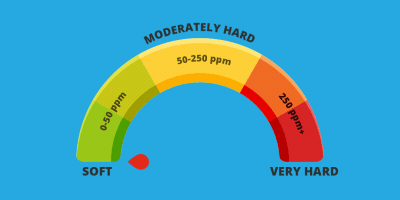 For residents of Eastleigh, the water is hard.
If you live in Eastleigh, like everywhere else in Hampshire and much of the south-east of England, you'll have to put up with hard water. The reason for this is not because rainfall produces hard water, or that the water companies treat it in a certain way – it's due to the soil beneath our feet.
Eastleigh sits on soil which comprises largely chalk and limestone. This contains an abundance of magnesium and calcium minerals. Once the rainwater, which is naturally soft, reaches the underlay, the calcium and magnesium components have the effect of turning the water hard.
For Eastleigh homeowners who don't like hard water all the time in their mains supply, the best policy is to get a water softener. The benefits are plentiful and immediate. Skin and hair love soft water, because it doesn't dry them out, leaving them looking and feeling silky and vibrant. Softened water is also great for laundry because it doesn't leave clothes and towels feeling starchy and drained of colour.
Water softeners are highly efficient at repelling limescale build up, which occurs in pipework and household appliances with hard water around. Washing machines and dishwashers also prefer soft water and it makes cleaning kitchens and bathrooms so much simpler. You also spend less on cleaning products. What's more, with soft water flowing through the system, your money will go further, since household central heating works much more effectively when it's not continuously coming up against pipework that's clogged with energy-reducing limescale.
The water hardness level for Eastleigh settles at around 282 parts per million (ppm). Given that any reading over 200ppm is deemed to be hard, Eastleigh is right up there in the water hardness league table.
Annual rainfall: 31.66inch or 802mm.
Eastleigh is situated between Southampton and Winchester and at the 2011 census had a population of 24,011.
The town is located close to the junction between the M3 and M27 motorways, with easy road access to the likes of London, Southampton, Winchester and Portsmouth.
Eastleigh lies on the River Itchen, which is one of England's premier chalk streams for fly fishing, as well as a designated site of Special Scientific Interest. The town's development really took off when Eastleigh was developed as a railway town in the 19th century.
Southampton Airport, the UK's 20th largest airport, is located in Eastleigh.
Famous residents of Eastleigh include Chrystabel Leighton-Porter, the model for the Second World War cartoon character Jane, and Benny Hill. His time working in Eastleigh on a horse-drawn milk float inspired his hit record, Ernie, The Fastest Milkman in The West.
Mains Drinking Water and Sewerage Services
Eastleigh's mains water and sewerage services come under the wing of Southern Water.
Interested in learning more about a water softener installation in Eastleigh?
Water softness of nearby locations
A water softener will give you...