How hard is the water in Cobham?
Water hardness reading:
280 ppm (very hard)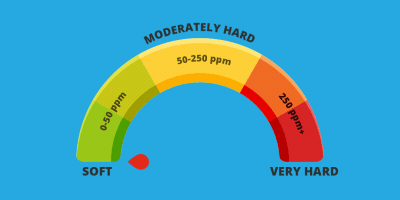 The water in Cobham is classified as hard. This is why.
Like most of Surrey, the water in Cobham is hard. The reason for this is that the soil in the local area is chalky and slightly acid, which means it contains minerals like calcium and magnesium. Whilst perfectly natural, these minerals do have the effect of turning soft rainwater hard. Consequently, the water that flows through the mains is hard. The best way to combat this is to have a water softened installed.
We measure water hardness in parts per million (ppm). In Cobham the reading is generally around of 280ppm. This is towards the top end of the hardness scale, since any measurement above 200ppm is classed as hard. For water to be soft, the reading would need to be well under 100ppm. The levels of rainfall can affect water hardness, with greater quantities of rain equating to harder water.
Annual rainfall: 29.9 inch or 754mm
Cobham is a bustling, picturesque village in the Borough of Elmbridge in Surrey, situated on the River Mole, 10 miles northeast of Guildford. It has a thriving commercial High Street and a significant number of primary and private schools. The historic village of Stoke D'Abernon lies to the south, which gives its name to the local railway station, Cobham & Stoke D'Abernon.
In extreme rainfall, the River Mole has been known to flood the small, older parts of the village centre. At the heart of Cobham is the Church Cobham Conservation Area, which was designated in 1973 and includes fourteen statutory listed buildings. The 19th Cobham Mill sits on the banks of the River Mole – the only surviving fully working watermill in Surrey which is open to the public during the summer months. Situated close by is Brooklands, famous for its motor racing and aviation heritage. Meanwhile, Chelsea Football Club's training ground is also on the outskirts of Cobham.
Mains, Drinking Water & Sewerage Services in Brighton
The mains water supply to Brighton, as well as sewerage services, are provided by Southern Water.
Interested in learning more about a water softener installation in Cobham?
A water softener will give you...