How hard is the water in Godalming?
Water hardness reading:
278 ppm (very hard)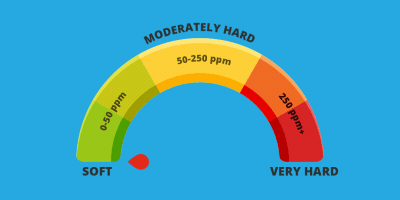 This is why Godalming's water is registered as hard:
Like so much of the south of England, the county of Surrey is subjected to hard water – and Godalming is no exception. The main reason for this is the geography of the region, which lies on mainly chalky and clay subsoil. When it rains, water is actually soft. But when it seeps into the soil, which is full of minerals like calcium and magnesium, it turns the water hard. If you aren't too keen on having hard water present in your mains supply, the best solution is to have a water softener fitted. This gets rid of all that unpleasant limescale and hard-to-keep-clean staining that you get with hard water.
In Godalming, the water hardness reading is about 278 parts per million (ppm). This varies a little, depending on the level of rainfall – the more rain you get the higher the reading. Any measurement over 200ppm means the water is hard. The nearer you get to 300ppm, the more you need to be thinking about wearing a tin hat in the shower!
Annual rainfall: 23.90inch or 607mm.
Godalming is an affluent, historic market town in Surrey and the administrative centre of the Borough of Waverley. It lies about 4 miles to the south-west of Guildford, traversing the River Wey in the Greensand Ridge – a hilly, wooded section of London's Metropolitan Green Belt. In 1881, Godalming became the first place in the world to have a public electricity supply and electric street lighting.
A predominantly residential town, due to its visual appeal, favourable transport links and high proportion of private housing, in the last ten years Godalming has been voted the most affluent place to live in Britain, with the highest quality of life.
The town area has 138 listed buildings, including 'The Pepperpot' which is Godalming's old town hall, Edwin Lutyens's Grade II listed Red House and the nearby public school, Charterhouse, which is also largely Grade II listed.
Mains, drinking water & sewage services in Godalming
In Godalming, the mains water and sewerage services are under the control of Thames Water.
Interested in learning more about a water softener installation in Godalming?
A water softener will give you...