How hard is the water in Portsmouth?
Water hardness reading:
297 ppm (very hard)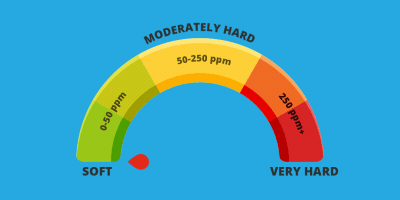 What makes the water so hard in Portsmouth?
Whilst most of Hampshire is in the same boat in terms of water hardness, Portsmouth is renowned for having exceptionally hard water. The chalky soil, characteristic of much of the area, is largely responsible because it contains plenty of minerals, like calcium and magnesium, which turn soft rainwater into hard water. This is the state you will find the water when it flows through the mains supply. For this reason, many Portsmouth residents choose to combat the effects of hard water by having water softeners installed in their properties.
Water hardness is measured in parts per million (ppm). Anything over 200 ppm is regarded as hard, so with Portsmouth topping out at around 300 ppm, this is at the high end of the scale. The amount of rainfall can affect the exact readings but, generally, the more it rains, the harder the water.
Annual rainfall: 34.4 inch or 874mm
Portsmouth, the famous naval port, is the country's only island city, just under 50 miles west of Brighton. With a population of approximately 238,000, Portsmouth is also the only city in the British Isles that has a greater population density than London.
Around 10 per cent of Portsmouth's workforce are employed at the Naval Dockyard. It also has its own ferry port. The majority of landmarks and tourist attractions are connected to the city's proud naval history, including Lord Nelson's flagship, HMS Victory, the world's oldest naval ship still in commission.
The remains of Henry VIII's flagship, Mary Rose, was raised from the seabed and brought to a purpose-built structure in Portsmouth Historic Dockyard in 1982. The Portsmouth Naval Memorial at Southsea Common commemorates the 24,591 British sailors who died during both World Wars and have no known graves.
The Spinnaker Tower, opened in 2005, is a 170 metre tall (560 ft) landmark observation tower and the centrepiece of Portsmouth Harbour's redevelopment. The spinnaker shape was chosen by local residents, reflecting the area's proud maritime history.
Famous Portsmouth residents include the authors Charles Dickens, who was born there and Sir Arthur Conan Doyle who lived and worked in the city. It was in Portsmouth that he came up with his most famous character – Sherlock Holmes. Isambard Kingdom Brunel, the engineering genius, said to have "changed the face of the English landscape" was born in Portsmouth. The Jungle Book creator, Rudyard Kipling, spent his childhood locally and the actor and comedian Peter Sellers was born in nearby Southsea.
Mains, drinking water & sewage services in Portsmouth
Portsmouth's mains drinking water and sewerage services are predominantly provided by Portsmouth Water.
Interested in learning more about a water softener installation in Portsmouth?
Water softness of nearby locations
A water softener will give you...