How hard is the water in Crawley?
Water hardness reading:
280 ppm (very hard)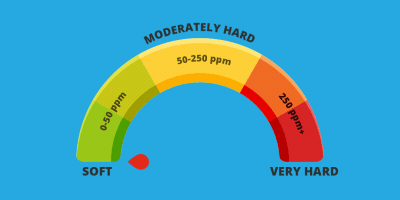 Why is the water in Crawley so hard?
Like the vast majority of the south of England – and Sussex in particular – the area in and around Crawley sits on chalky soil. The water flows off the Downs and when it mixes with the calcium and magnesium mineral deposits within the soil, it becomes hard, even though it fell as soft rainwater. The best way to combat the disadvantages of hard water (limescale build up, not good for the skin, hair and your laundry, clogged pipework etc) is to have a water softener fitted in your home.
If a water reading is above 200 parts per million (ppm) it is considered hard. Below 100ppm is soft. In Crawley, the average water hardness level is around 280ppm, which puts the town towards the top end of the scale. Not quite tin- hat-in-the-shower time but getting pretty close to it!
Annual rainfall: 29.2 inch or 742mm
Crawley is a large, sprawling town and borough in West Sussex, about 20 miles north of Brighton and Hove and 32 miles north-east of the county town of Chichester. Covering an area of 17.36 square miles, Crawley's population stood at 106,597 at the 2011 Census.
Gatwick Airport, Britain's second busiest international airport, opened on the edge of the town in the 1940s, encouraging commercial and industrial growth. Today thousands of Crawley residents are employed either at the airport or by companies who are associated with the aviation industry.
Although the area has been inhabited since the Stone Age, Crawley developed gradually as a market town from the 13th century. Being on the main road from London to Brighton, passing trade was always encouraged.
But it was after the Second World War when Crawley really started taking off. It became part of The New Towns Act 1946, from which emerged rapid residential, commercial, industrial and civic development. The nearby communities of Ifield, Pound Hill and Three Bridges were all absorbed into Crawley, with Three Bridges now being the predominant train station on the serving the London to Brighton line.
Companies headquartered in Crawley include Virgin Atlantic, Nestlé, William Reed Business media and it also the base for British Airways Holidays and Air Miles divisions.
Famous names from Crawley are plentiful and include the former Olympic Decathlon gold medallist Daley Thompson, Gareth Southgate the England football manager who went to school in the town and the comedian and TV personality, Romesh Ranganathan, who was a teacher in Crawley and still lives locally.
Mains, drinking water & sewage services in Crawley
Southern Water provide the mains drinking water and sewerage services for Crawley.
Interested in learning more about a water softener installation in Crawley?
Water softness of nearby locations
A water softener will give you...