How hard is the water in Shalford?
Water hardness reading:
276 ppm (very hard)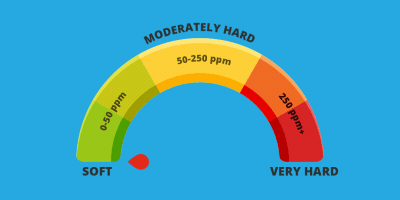 The water in Shalford is hard. This is the reason:
For residents of Shalford, we can report that your mains water supply is going to be hard. With the underlying soil in this part of Surrey and neighbouring West Sussex being primarily of chalk and clay, it is full of minerals like calcium and magnesium. When it rains, it is these minerals which turn the soft-falling rainwater hard. This is why you get lots of limescale build up in kitchens and bathrooms. The hard water isn't good for boilers, dishwashers and other household appliances either. The best way to combat hard water is to have a water softener installed. Unsurprisingly, many residents in Shalford and the surrounding areas around Guildford choose to have soft water systems fitted in their homes.
The water hardness level in Shalford is normally around 276 parts per million (ppm). A reading of over 200ppm, is considered hard. A water softener would reduce the level to under 100ppm.
Annual rainfall: 41.2inch or 1047mm.
Shalford is a village and civil parish located in Surrey, on the A281 Horsham road immediately south of Guildford. The village has a railway station, which is midway between Guildford and Dorking, on the line to Gatwick Airport. The neighbouring locality of Peasmarsh lies just to the west of Shalford.
The River Tillingbourne joins the River Wey next to Shalford parish church. For many centuries, the river was a key source of income for the village. Various local industries, one being gunpowder production, relied on the river as a power source. Shalford was a landing place for barges and, although the trading links have now largely disappeared, it is still visited by pleasure boats to this day.
In 1922, as part of a competition run by the Daily Mail, the Shalford village sign was designed by Christopher Webb and W H Randall Blacking. It shows Saint Christopher carrying the Christ Child over a shallow ford.
Mains, drinking water & sewage services in Shalford
The mains water and sewerage services for Shalford is provided by Thames Water.
Interested in learning more about a water softener installation in Shalford?
A water softener will give you...