How hard is the water in Kingston upon Thames?
Water hardness reading:
282 ppm (very hard)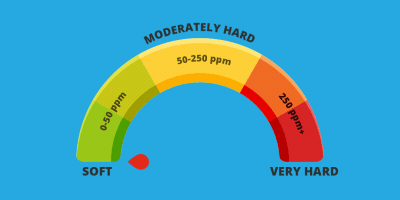 For residents of Kingston upon Thames, the water supply is hard
As with most of south east England, Kingston upon Thames is subject to hard water. This is mainly due to what lies in the soil. Throughout Surrey, the soil is comprised of chalk and clay, which are full of minerals like calcium and magnesium.
You might be surprised to learn that rainfall is actually naturally soft. But once it gets into the soil, the calcium and magnesium minerals turn the water hard. The only way to combat this is to have a water softener fitted in your home.
Water softeners are the most effective way remove limescale and all the other bad points about hard water; it causes dry skin and hair, makes laundry starchy, not to mention the damage I can cause to pipework and household appliances due to limescale build-up.
The water hardness reading for Kingston upon Thames is around 282 parts per million (ppm). It can vary a little according to the amount of rainfall but, even so, any reading above 200ppm is considered hard. So, at 282ppm or thereabouts, Kingston upon Thames has extremely hard water.
Kingston upon Thames – an Overview
Annual rainfall: 23.90inch or 607mm.
The town of Kingston upon Thames (the name was hyphenated until 1965 and is colloquially known as Kingston) is within the Royal Borough of Kingston upon Thames in South West London. It is located on the River Thames and is 10 miles southwest of Charing Cross.
Although historically in the county of Surrey, since 1965 it has been part of Greater London, with most of the town centre being within the KT1 postcode area.
Kingston is one of the biggest retail centres in the UK with over 18 million visitors a year. The town is also home to Kingston University.
Before the London Summer Olympics of 2012 were opened, Kingston twice hosted the traditional torch relay. The borough was also the setting for four cycling events during the Olympics – the men's road race and time trial and the women's road race and time trial.
Mains, drinking water & sewage services in Kingston upon Thames
The mains water and sewerage services for Kingston upon Thames are supplied by Thames Water.
Interested in learning more about a water softener installation in Kingston upon Thames?
Water softness of nearby locations
A water softener will give you...