How hard is the water in Selsey?
Water hardness reading:
280 ppm (very hard)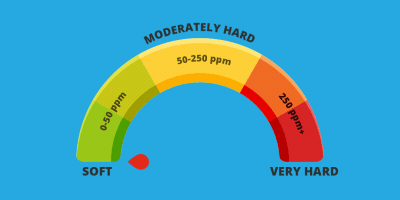 The tap water in Selsey is hard – here's why
With Selsey being situated on the chalky soil of the south coast, it is inevitable that the local tap water is extremely hard. This is because when rainwater, which is soft, comes into contact with the chalk, the magnesium and calcium minerals within the chalk turn the water hard. The heavier the rainfall, the bigger the problem! The most effective solution to combat hard water in the home is to have a water softener fitted.
If water measures over 200 ppm (parts per million), it is considered hard. In Selsey, the water hardness level is typically around 280 ppm, which means it registers at the top end of the scale. In drier weather, the reading can fall slightly but, overall, Selsey has consistently hard water throughout the year.
Annual rainfall: 36.5 inch or 928mm
Selsey is a well-known seaside town in West Sussex, situated about eight miles south of Chichester. It's known to be vulnerable to the weather and coastal erosion, given that its southernmost point, at Selsey Bill, is almost cut off from the mainland by the sea. Even so, Selsey is considered to be one of the sunniest areas in Britain.
With a population of about 10,500 and only one road in and out of the town over a bridge at Pagham Harbour, at one time Selsey was inaccessible at flood tide. A ferry boat was needed to transport passengers and horses to and from Sidlesham.
Selsey has one of England's oldest cricket clubs, founded in 1834 and for many years the famous astronomer, the late Sir Patrick Moore CBE, was a club secretary and playing member. The club remains home to his 3D Exhibition that recreates his home study. In 1998, a tornado left an estimated £10m of destruction and damaged Sir Patrick's observatory.
Mains, drinking water & sewage services in Selsey
Portsmouth Water provides the mains drinking water to Selsey.
Interested in learning more about a water softener installation in Selsey?
Water softness of nearby locations
A water softener will give you...