How hard is the water in Reigate?
Water hardness reading:
280 ppm (very hard)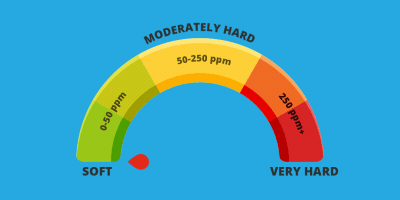 Why is the water in Reigate so hard?
If you live in Reigate, your mains water supply will be constantly on the hard side. This is because rainwater flows off the Downs into the chalky undersoil. The chalk contains minerals, like calcium and magnesium, which have the effect of turning the water hard. This is a major factor in why so many local homeowners in the Reigate area opt to have a water softener fitted in their homes, to produce much more acceptable soft water. It's a sensible lifestyle choice.
The level of hardness in water is registered in parts per million. If a location has a water hardness reading of over 200ppm it is considered hard. If it ever reaches 300ppm, then it's moving towards tin hat time in the shower! The reading in Reigate is generally at around 280ppm, which means the town suffers from extremely hard water.
Annual rainfall: 28.7 inch or 728mm
Reigate is a Surrey town, one of four towns in the borough of Reigate and Banstead within the London commuter belt. It boasts a medieval castle dating back to the time that Reigate became a market town. Just to the north-west, the North Downs provide sweeping panoramic views.

The swathe of land running southwards, including nearby Redhill, is also known as part of the Gatwick Diamond, including the M23 corridor and Crawley Urban Area about 15 miles away in West Sussex.

Reigate town centre is focussed on Bell Street and a long High Street and the West Street conservation area filled with shops, cafés, bars and restaurants.

In 1858, before the days of water softeners, the Reigate Water Works Company was established to supply drinking water to the town. The first sewerage system in Reigate was installed sometime later, in 1876 and included a main outfall sewer running under the aforementioned Bell Street.

At one time, the airline Air Europe had its head office in Reigate along with Redland plc, the FTSE 100 building materials company, before being acquired by Lafarge. The insurance company Esure is based in the former Redland headquarters where the Redland brick sculpture still stands in front of the building. The former HQ of Canon UK, opened by the Duke of Edinburgh in 2000, has won numerous design and 'green' awards.

Reigate is also home to Pilgrim Brewery, the first new brewery to be established in Surrey for over a century and whose beers are brewed using the local water.
Mains, drinking water & sewage services in Arundel
Reigate's mains drinking water and sewerage services are predominantly provided by SES Water.
Interested in learning more about a water softener installation in Reigate?
Water softness of nearby locations
A water softener will give you...