How hard is the water in Sutton?
Water hardness reading in Worthing:
284 ppm (very hard)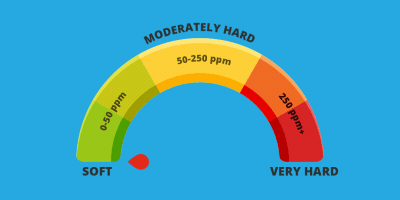 For residents of Sutton, the water is registered as hard.
Sutton in Surrey, like much of the south of England, suffers from hard water. Plenty of people complain about it, believing that it must be something in the way that water is treated that makes it so hard. But this isn't strictly true. The "blame" lies with the soil.
Much of the south-east sits on chalk and clay soil, which is rich in calcium and magnesium minerals. Rainwater is actually soft, but when it reaches the soil, these minerals have the effect of turning the water hard. It's nature, therefore, rather than the water companies that causes the problem! If you live in Sutton, the best way to combat hard water coming through your mains supply is to arrange to have a water softener installed. Softened water is so much better to wash in, its kinder on the skin and hair, as well as being great for snugly laundry!
What's more, soft water prevents limescale build up in pipework and household appliances. Your washing machine and dishwasher will work more efficiently, it will be easier to keep kitchen and bathroom surfaces clean and your central hearing system will work more effectively, helping reduce your energy costs.
In Sutton, the water hardness level is around 284 parts per million (ppm). This can vary a little according to how frequently it rains. Even so, any measurement reading over 200ppm is deemed to be hard. At 284ppm, Sutton's water is consistently amongst the hardest water in Surrey.
Annual rainfall: 23.48inch or 596.5mm.
Sutton is the principal town within the London Borough of Sutton. Lying on the lower slopes of the North Downs, it is approximately 10 miles south-west of Charing Cross, 4.2 miles west of Croydon, 3.8 miles north-east of Epsom and 5.8 miles south-east of Kingston upon Thames.
In the 2011 census, the population of Sutton town was 41,483, with just over 200,000 residents living in the borough overall.

Sutton is one of several towns located on a narrow bed of Thanet Sands which extends from Croydon in the east, to Epsom in the west. The belt allowed wells to provide clean water from very early times. To the south of this belt is the chalk of the North Downs, to the north there's clay – explaining why the water in Sutton is so hard!

Sutton railway station operates regular services to central London and other destinations, such as Horsham. The town is also home to the Royal Marsden Hospital and the Institute of Cancer Research. The Rolling Stones were first spotted at the Red Lion public house (now the Winning Post) in Sutton High Street.
Mains and Drinking Water in Sutton
If you live in Sutton, it is the East Surrey Water Company, along with Thames Water that provide mains water and sewerage services.
Interested in learning more about a water softener installation in Sutton?
Water softness of nearby locations
A water softener will give you...