How hard is the water in Puttenham?
Water hardness reading:
278ppm (very hard)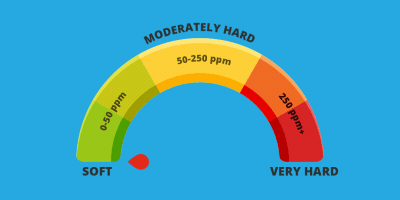 Puttenham has hard water. This is why:
Surely, it must be down to the rain! Well, not quite. Actually, rainwater is soft when it falls out of the sky. The change comes when it hits the ground and seeps into the soil. You see, the soil composition in Puttenham – and indeed throughout all of Surrey – is mainly chalk and clay. And this chalk and clay contains lots of calcium and magnesium minerals. Once rainwater comes into contact with them, the soft water is turned hard. That's why you get hard water flowing through your taps. The only way to combat this is to move to a part of the country which doesn't have hard water or, more practically, have a water softener installed in your home – which will cure the effects of hard water immediately!
The water hardness measurement in Puttenham is about 278 parts per million (ppm). This reading does alter and is dependent upon the amount of rain. The heavier the rain, generally the harder the water. Any ppm reading above 200 is considered hard. At 300ppm it's mighty hard! With a water softener in your property, the level will fall to almost zero.
Annual rainfall: 37.32inch or 948mm.
Puttenham is a village in Surrey, located midway between the towns of Guildford and Farnham, just south of the Hog's Back, the narrowest stretch of the North Downs. Situated just off the A31 that runs along the spine of the Hog's Back, Puttenham's neighbouring villages include Compton, Shackleford and Wanborough.
The houses in Puttenham are largely along the main street that runs through the village. At the eastern end, lies the Grade II listed Puttenham Priory, which originally dates back to 1266. The large Palladian front was added in the 18th century. Today it is the home of Roger Taylor, the Queen drummer.
The village also features in Aldous Huxley's dystopian novel, Brave New World. "Puttenham was a modest little village nine stories high, with silos, a poultry farm, and a small vitamin-D factory."
Mains and Drinking Water in Puttenham
For Puttenham residents, the mains water and sewerage services are mostly under the arm of Thames Water.
Interested in learning more about a water softener installation in Puttenham?
A water softener will give you...