How hard is the water in Slindon?
Water hardness reading:
278 ppm (very hard)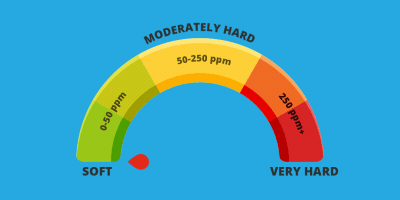 The mains water supply in Slindon is hard. Here's why:
Throughout West Sussex, indeed much of the south of England, the water that flows through our taps is hard. And Slindon is no exception. It doesn't start out being hard. In fact, rainwater is soft. But when the rainfall reaches the chalky or clay soil that dominates this part of the world, it becomes hard. The reason for this is that this type of soil consists of lots of calcium and magnesium minerals, which are known to turn water hard. The good news is that you can do something about it. By having a water softener installed in your property, you can negate the effects of hard water and enjoy the many benefits that soft water provides.
The water hardness reading in Slindon is around 278 parts per million (ppm). Any reading over 200ppm is deemed. At 300ppm it's time to start considering a tin hat in the shower! With a water softener, the reading reduces down dramatically – to under 100ppm.
Annual rainfall: 19.84inch or 504mm.

Slindon is a mainly rural village and civil parish in the Arun District of West Sussex, about 6 miles north-east of Chichester and about 3 miles west of Arundel. It is surrounded by woodland, much of which belongs to the National Trust.
In the Domesday Book of 1086, Slindon is referred to as "Eslindone", the Old English name for sloping hill. The 12th century parish church of St Mary's has a memorial to Stephen Langton, the Archbishop of Canterbury who attended the signing of the Magna Carta. The present day now Slindon College was one of the Archbishop's residences in the Middle Ages.

In 2012, the old village forge was converted into a shop, cafe and information centre – popular to this day. The village has been called the "pumpkin capital of Britain", famous for its annual display of pumpkins which attracts tourists to the village from far and wide.
Mains, drinking water & sewage services in Slindon
Slindon's mains water and sewerage services are provided by Portsmouth Water.
Interested in learning more about a water softener installation in Slindon?
Water softness of nearby locations
A water softener will give you...