How hard is the water in Burgess Hill?
Water hardness reading:
280 ppm (very hard)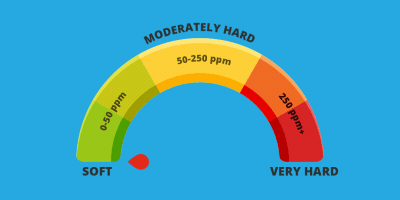 What makes the water so hard in Burgess Hill?
Just like so many parts of the south of England, as with inland towns like Burgess Hill, the chalkiness of the soil means that the mains water supply is exceptionally hard.

In Burgess Hill, the water hardness reading is around 280 ppm (part per million) which is regarded as right at the top end of the scale. Not quite 'tin hat in the shower time' – but getting on that way!
Burgess Hill – an Overview
Annual rainfall: 25.9 inch or 650 mm
Burgess Hill is a town located in the Mid Sussex District on the edge of the South Down National Park, virtually on the border between West and East Sussex. It is located 10 miles north of Brighton and Hove. Its nearest neighbour is Haywards Heath and, due to the march of development, the two towns are now virtually adjoined – often jokingly referred to locally as Burgess Heath and Haywards Hill! The population of Burgess Hill was 30,365 at the 2011 census.
Recently it received the accolade of being a Fairtrade town. Filofax is headquartered in Burgess Hill, whilst Roche, American Express, Honeywell and Porsche all have a substantial presence.
Simon Nye, the English comic television writer who wrote the hit sitcom Men Behaving Badly was born in Burgess Hill and the television presenter, Holly Willoughby went to school in the town.
Mains and Drinking Water in Burgess Hill
The mains water supply in Burgess Hill is provided by South East Water and the sewerage service comes from Southern Water.
Interested in learning more about a water softener installation in Burgess Hill?
A water softener will give you...