How hard is the water in Haslemere?
Water hardness reading:
285 ppm (very hard)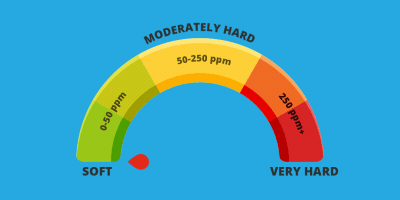 Here's why residents of Haslemere experience hard water
If you live in or around Haslemere, you'll know all about hard water! Like much of the south of England, this corner of Surrey is defined by water hardness, which is the result of the predominantly chalky soil that covers much of the area. The soil contains plenty of calcium and magnesium minerals that turn soft rainwater hard. That's why so many local residents in Haslemere choose to have water softeners fitted in their properties.
To measure water hardness, it is assessed in parts per million (ppm). If the reading is over 200ppm, it is deemed to be hard. The level in Haslemere is around 285ppm, which puts the town at the high end of the water hardness scale. The reading can dip a little in the summer months when there is less rainfall.
Annual rainfall: 29.3 inch or 745mm
Haslemere is situated in southwest Surrey bordering the counties of Hampshire and West Sussex. The town is close to the south branch of the River Wey, which rises on the northern slopes of Blackdown to the south of the town. The area to the east of Haslemere is drained by the River Arun.
The area is served by two principal transport routes, the London to Portsmouth railway line and the A3 trunk road, both of which run via Guildford.
To the north of Haslemere is the Surrey Hills Area of Outstanding Natural Beauty and the South Downs National Park lies is to the south. Consequently, Haslemere is a great place for walkers. It forms the western end of the Greensand Way, a long-distance footpath that runs for 108 miles along the Greensand Ridge to Hamstreet in Kent. Meanwhile, the 64-mile Serpent Trail runs from Haslemere to Petersfield via Blackdown and Petworth.
Mains, drinking water & sewage services in Haslemere
The mains drinking water and sewerage services for Haslemere are mainly provided by Thames Water.
Interested in learning more about a water softener installation in Haslemere?
A water softener will give you...