How hard is the water in West Clandon?
Water hardness reading:
275 ppm (very hard)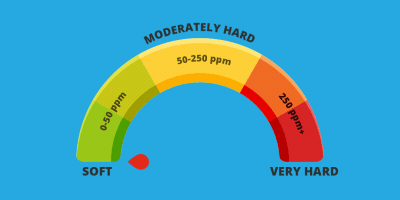 What makes the water so hard in West Clandon?
As with most areas in Surrey and much of the rest of the south of England, the water that flows through the mains supply to properties in West Clandon is on the hard side. This is primarily because of the type of soil in the region. It's predominantly of clay or chalk, which contains lots of calcium and magnesium deposits. When rainwater comes in to contact with these minerals it hardens up. This is why so many homeowners in the area choose to have water softeners, because they are the most effective of way combatting persistently hard water.
The water hardness reading for West Clandon is about 275 parts per million (ppm). It can vary slightly depending on the amount of rainfall. To give you some idea, if water is measured at over 200ppm it is said to be hard. At 300ppm it's time to start ducking in the shower! Softened water is under 100ppm.
West Clandon – an Overview
Annual rainfall: 23.90inch or 607mm.
West Clandon is a village in Surrey, close to Guildford and about one mile from the main A3. It also has excellent rail links, with Clandon station running frequent stopping services in one direction via Cobham, Stoke D'Abernon and Epsom into London Waterloo and, the other way, to Guildford.
Clandon House, is a Palladian architecture mansion in the village, run entirely by the National Trust that hosts visitor days and weddings. It was largely destroyed by fire in 2005. Clandon Park is a 1000-acre agricultural Estate that is the Seat of the Earls of Onslow dating back to mediaeval times. Until the late 20th century, the Earl was the largest private landowner in the county.
Mains and Drinking Water in West Clandon
The mains water and sewerage services in West Clandon come under the remit of Thames Water.
Interested in learning more about a water softener installation in West Clandon?
Water softness of nearby locations
A water softener will give you...