How hard is the water in Horsham?
Water hardness reading:
240 – 280 ppm (very hard)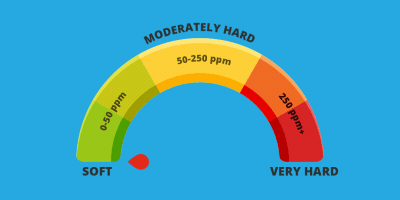 What makes the water so hard in Horsham?
The south of England is particularly known for the hardness of its water. It's basically down to the chalky nature of the soil and the minerals that it contains which has the effect of hardening up naturally soft rainwater.
Horsham's water falls very much into this category! The town's water hardness reading of between 240 and 280mm (parts per million) confirms that it is at the higher end of the scale – anything over 200 ppm being deemed as hard water.
This is a major reason why so many Horsham residents have taken affirmative action over the years and had a water softener installed.
Annual rainfall in Horsham: 23.90 inches or 607mm.
Horsham is a popular market town with the Carfax at its centre, situated on the upper reaches of the River Arun, close to the Sussex Weald and located 18 miles north-west of Brighton and 26 miles north-east of Chichester. Neighbouring towns include Crawley to the north-east and Haywards Heath and Burgess Hill to the south-east.
In September 1958, a hailstone the size of a tennis ball, weighing 140g (4.9 oz), fell on Horsham. It was the heaviest ever recorded.
Horsham also once boasted a kinetic water sculpture called the 'Rising Universe', or 'The Shelley Fountain'. With a 45 ft base and standing 28 ft high, it was designed to periodically release a torrent of six and a half tons of water. In an effort to save water, the fountain was turned off in 2006, as it used 180 gallons a day. Despite being turned back on again later that year, after a series of expensive mechanical breakdowns, it was removed altogether in 2016.
Famous people associated with the town include the comedian Harry Enfield who attended the local sixth form college, the band The Feeling, whilst the Spurs and England footballer and former Brighton manager Alan Mullery currently resides there.
Mains, drinking water & sewage services in Horsham
South East Water, SES Water and Southern Water are responsible for supplying Horsham with its mains supply and handling its sewerage services.
Interested in learning more about a water softener installation in Horsham?
Water softness of nearby locations
A water softener will give you...