How hard is the water in Storrington?
Water hardness reading:
240 – 280 ppm (very hard)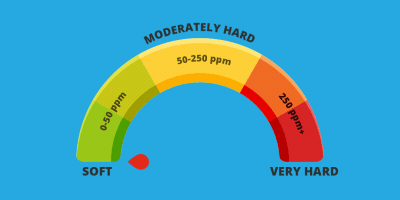 What makes the tap water in Storrington hard?
Since Storrington lies in the heart of Sussex – an area of the country renowned for having hardened water – it is inevitable that homeowners in the local area are prone to the same hard water flowing from their taps! As the rainfall flows off the South Downs into the chalky undersoil, it is turned from its natural soft state into hard water, due to the calcium and magnesium mineral deposits contained in the soil. That's why so many people in the south of England choose to have water softeners!
Water is considered to be hard if it measures over 200 ppm (parts per million). The water hardness reading for Storrington ranges from between 240 and 280 ppm, which places it in the very hard category. The difference in measurement is determined by the amount of rainfall – the reading is at its highest during the heaviest downpours!
Annual rainfall: 23.90 inch or 607mm
Storrington is a thriving West Sussex market town in the district of Horsham. It lies at the foot of the northern side of the South Downs and the busy A283 runs through its centre, connecting Storrington to Pulborough which lies a little further west and Steyning to the east.  
Notable local landmarks include St Joseph's Hall in Greyfriars Lane built as a private house at the turn of the 20th century for an American businessman. The property was later used as a home for refugees fleeing the 1956 Hungarian uprising.  The Parham Park estate also lies on the outskirts of Storrington.  Known as a catchment area for artists and writers, Storrington was home to the poets Wilfred Meynell and Arthur Bell and the writer AJ Cronin who resided in nearby Sullington. 
Mains, drinking water & sewage services in Storrington
Storrington's mains drinking water and sewerage services are provided by Southern Water, who are based a few miles away in Worthing.
Interested in learning more about a water softener installation in Storrington?
A water softener will give you...