How hard is the water in West Dean?
Water hardness reading:
280 ppm (very hard)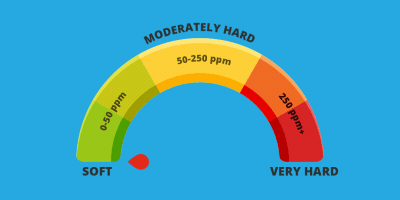 The water is hard in West Dean – and this is why
For residents of West Dean who haven't had a water softener installed, you are likely to be encountering a permanent flow of hard water coming from the mains supply. It's hard to escape because the mainly chalky soil of Sussex is full of minerals, like calcium and magnesium, which have the effect of turning the soft rainwater hard when it comes into contact.
The water hardness measurement for West Dean is around 280 parts per million (ppm). To put this into perspective, any water that registers over 200ppm is considered hard. So West Dean is heading towards the top end of the chart. The nearer you get to 300ppm, the more you'll need to think about wearing a tin hat in the shower!
Annual rainfall: 30.1 inch or 765mm
West Dean is a West Sussex village in the District of Chichester in West Sussex, about five miles north of the city, just west of Singleton on the A286 road. The joint parishes of West and neighbouring East Dean include the hamlets of Binderton and Chilgrove.
In the 2001 Census, there were 425 people recorded as living in the village, which sits on the Monarch's Way long-distance footpath. Situated in the sheltered Lavant Valley within the South Downs, West Dean's parish church, like most of the local houses, is built in flint featuring brick quoins and window dressings.
West Dean House, a Georgian "Gothick" country house, is home to West Dean College, a specialist college with a worldwide reputation for the study of conservation and visual arts. Meanwhile, Binderton House, a 17th-century Grade II listed property was the former residence of the British Prime Minister Anthony Eden.
Mains, drinking water & sewage services in West Dean
The mains water and sewerage services in West Dean are predominantly provided by Portsmouth Water.
Interested in learning more about a water softener installation in West Dean?
Water softness of nearby locations
A water softener will give you...