How hard is the water in Kings Worthy?
Water hardness reading:
280 ppm (very hard)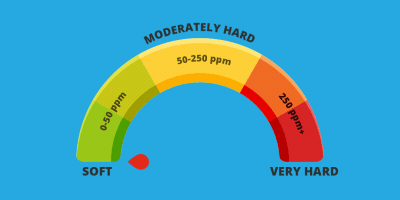 If you live in Kings Worthy, it's a case of hard water.
Just like much of the south-east of England, including Hampshire, the area around Kings Worthy is subjected to hard water. This isn't because the water companies decide to give us hard water, it's actually to do with nature – the soil beneath our feet to be precise.
Kings Worthy lies on chiefly chalk and limestone soil, which contains an abundance of calcium and magnesium minerals. Although rainwater is naturally soft, when it reaches this chalky underlay, the calcium and magnesium components get to work and turn the water from soft to hard.
As a result, for Kings Worthy residents who aren't keen on hard water in their mains supply, the best way to combat this is to have a water softener fitted. The benefits will be instant. Our skin and hair love soft water, as it doesn't dry them out – they look and feel so much shinier and softer as a result. If you opt for softened water, your laundry will also thank you, as it won't feel starchy and have the colour washed out of it,
Water softeners work wonders on repelling that awful limescale build up, which you get in pipework and household appliances when hard water is on go. Washing machines and dishwashers also take kindly to soft water and you'll discover it's much easier to keep kitchen and bathroom surfaces looking the bees' knees. Plus, given the nightmare of rising energy bills, soft water in situ means you'll save more of your hard-earned money, as your household boiler will perform more efficiently, because it won't be continually fighting against pipework clogged up with limescale.
In Kings Worthy, the water hardness level registers around 280 parts per million (ppm). Given that any reading over 200ppm is considered hard, Kings Worthy features near the top of the water hardness league table.
Kings Worthy – an Overview
Annual rainfall: 21.06inch or 535mm.

With a population of 4435 at the 2011 census, Kings Worthy is a Hampshire village situated approximately two miles north-east of Winchester.

The parish is crossed by the A33, which merges with the A34 immediately to the south. Although Kings Worthy once had a railway station, it was by-passed to the west by the London and South Western Railway (the surviving main line) and to the north by the Alton, Alresford and Winchester Railway, part of which survives to the east as the Watercress Line.

The main road through the village, Springvale Road, is served by regular buses going to the centre of Winchester. The Kings Worthy Conservation Volunteers are a local group of passionate conservationists who look after the wildlife and natural environment in and around the village and The Worthys.
Mains and Drinking Water in Kings Worthy
The main water services for Kings Worthy are under the remit of South-East Water.
Interested in learning more about a water softener installation in Kings Worthy?
Water softness of nearby locations
A water softener will give you...