How hard is the water in East Wittering?
Water hardness reading in East Wittering:
280 ppm (very hard)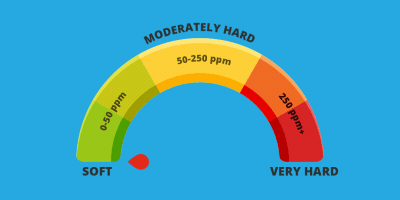 The mains water in East Wittering is hard. This is the reason.
For residents of East Wittering, unless you take remedial action and get a water softener installed in your home, you'll be living with consistently hard water flowing from your taps. If there's any consolation, it's much the same story throughout the rest of West Sussex, Hampshire and East Sussex. This is because the whole region lies on chalky or clay-based soil, which contains minerals like calcium and magnesium. Rain actually falls as soft water but, when it comes into contact with these minerals, it becomes hard.
In East Wittering, the water hardness levels are at around 280 parts per million (ppm). Anything registering over 200ppm is said to be hard. If it gets to 300ppm, then it's time to start thinking about wearing a tin hat in the shower!
East Wittering – an Overview
Annual rainfall: 36.5inch or 928mm. 
The coastal village of East Wittering is situated in the Chichester district of West Sussex. Located on the B2179 road in an area known as the Manhood Peninsula, the western edge of the village creeps over into neighbouring West Wittering. In the 2011 census, the entire ward had a population of 5117. A war memorial on the eastern junction of the B2179 with Cakeham road includes reference to East Wittering being a 'Thankful Village'.
This part of the county features Bracklesham Bay, extremely popular with the surfing community and home to one of the UK's oldest surf clubs, Shore Surf Club. With its low beach gradient and no undue currents, it is an ideal spot for learners.
Mains drinking Water & Sewerage in East Wittering
The mains water and sewerage services in East Wittering come from Portsmouth Water.
Interested in learning more about a water softener installation in East Wittering?
Water softness of nearby locations

Highly recommend! I spoke to Kristie on the phone who was an absolute pleasure to talk to. Scott carried out the installation to a very tidy and high standard. Very knowledgeable and I was given all the information I need.
Excellent customer service. Thank you so much.

Scott recently supplied and installed an EcoWater Evolution Refiner Power system in our home. We are happy with the improvement in our water quality. The overall experience has been very good. Scott visited to advise us on the most suitable machine for our household and also liaised with our plumber to ensure the correct connections to and from the system. Communications throughout were good – we knew what to expect and when. The installation went pretty smoothly, taking a little longer than expected because, on checking the initial set-up, Scott found a small problem causing a slight leak but he made sure that that was resolved to his own satisfaction before he left. After-sales support seems strong too – Scott has stayed in touch, however we have not needed anything to date. Recommended!
A water softener will give you...