How hard is the water in Epsom?
Water hardness reading:
280 ppm (very hard)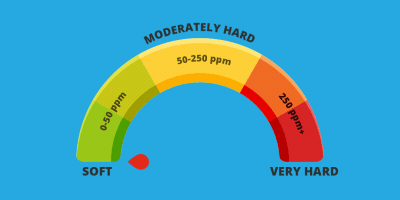 The water in Epsom is regarded as hard – here's why.
Like the majority of Surrey, the town of Epsom, which is situated in close proximity to the chalk and clay soiled North Downs, suffers from hard water. The reason lies in the chalk. When the rainwater seeps into the chalky underlay, the minerals that it contains, like calcium and magnesium, have the effect of turning the water hard. It was soft when it fell as rain but, unfortunately for Epsom residents, it doesn't stay that way. This is why many local residents find the idea of having a water softener installed in their homes so appealing.
To give you an idea of how hard the water is in Epsom, if water hardness is measured above 200 parts per million (ppm), it is deemed hard. Given that Epsom's levels average out at around 280 ppm, this is towards the high end of the scale. Excessive rainfall can reduce the water hardness to some extent, but with prolonged periods of drier weather predicted in the future, the hardness of the water in this part of Surrey is only likely to increase.
Annual rainfall: 28.7 inch or 728mm.
Epsom is the principal town of the Borough of Epsom and Ewell, which lies about 14 miles south of central London. The town is first recorded as 'Ebesham' in the 10th century, a name which probably derives from a Saxon landowner. The present-day street pattern is thought to have become established during the Middle Ages. The main feature of the High Street is its clock tower, erected in 1848.
Interestingly, the mineral waters of the spring on Epsom Common, were believed to have healing qualities – known as Epsom Salts. The spa actually contained high levels of magnesium sulphate (a water hardener!) This didn't deter Charles II and the diarist Samuel Pepys, who both regularly took the water.
Epsom's main claim to fame, however, is horse racing. Organised races on Epsom Downs began in the early 17th century. As its popularity grew, The Oaks the Derby were established in 1779 and 1780. Today the Epsom Derby is one of the world's most prestigious horse races. Famously, during the 1913 running, the suffragette Emily Davison, incurred fatal injuries after being hit by King George V's horse.
Notable Epsom folk include Mrs Beeton (of cookbook fame) who spent her childhood in Epsom, Led Zeppelin's Jimmy Page who learnt to play the guitar in the town, whilst the area is home to the actor and comedian, Warwick Davis and snooker star Jimmy White.
Mains, drinking water & sewage services in Arundel
The mains drinking water and sewerage services for Epsom and Ewell are predominantly provided by Thames Water.
Interested in learning more about a water softener installation in Arundel?
Water softness of nearby locations
A water softener will give you...