How hard is the water in Bishop's Waltham?
Water hardness reading:
278 ppm (very hard)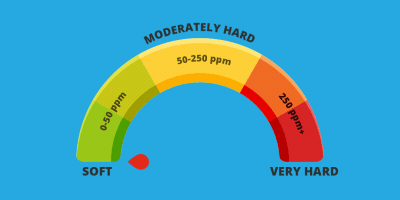 If you live in Bishop's Waltham, hard water is all around!
Just like the rest of Hampshire and large parts of southern England, the water supplied through the mains to residents of Bishop's Waltham is hard. The main culprit for this is actually the soil under our feet!
Bishop's Waltham likes on mainly limestone and chalk soil, which is rich in calcium and magnesium minerals. Although when rain falls from the sky it is naturally soft, once it seeps into the soil, those calcium and magnesium components have the effect of transforming the water from soft to hard.
As a result, if you reside in Bishop's Waltham and aren't impressed with hard water, the best thing you can do is to have a water softener installed in your home. Here's why. Skin (especially dry skin) and hair love softened water. As does your laundry, since soft water doesn't wash the living daylights out of everything.
On top of that, a water softener will stop limescale build up in its tracks, for which your household appliances and pipework will thank you profusely! Softened water also makes it far easier to clean – and keep clean – your kitchen and bathroom surfaces. And it's worth noting that, to help curb rising energy bills, your central heating system will work much more efficiently with soft water running through it.
The water hardness reading for Bishop's Waltham is 278 parts per million (ppm). Any reading above 200ppm is considered hard, so Bishop's Waltham is heading towards the top of the hardness scale.
Bishop's Waltham – an Overview
Annual rainfall: 30.75inch or 781mm.
Bishop's Waltham is a medieval market town situated at the source of the River Hamble in Hampshire, at the foot of the South Downs National Park, located midway between Winchester and Portsmouth. It is home to the ruins of Bishop's Waltham Palace, a Scheduled Ancient Monument under English Heritage management. The town also has a well-preserved high street, with many listed buildings now housing independent shops.
At the 2011 census, the population of Bishop's Waltham was recorded at 6,723 and it is the largest settlement in the Winchester district outside of the city itself. The Moors at Bishop's Waltham is a Site of Special Scientific Interest, comprising some 84 acres of mainly hydrologically sensitive fen, fen meadow and wet woodland.
Meanwhile, Bishop's Waltham used to be home to Gunner and Company, the UK's last provincial private bank.
The mains water for Bishop's Waltham is provided by South-East Water.
Interested in learning more about a water softener installation in Bishop's Waltham?
Water softness of nearby locations
A water softener will give you...