How hard is the water in Southampton?
Water hardness reading:
280 ppm (very hard)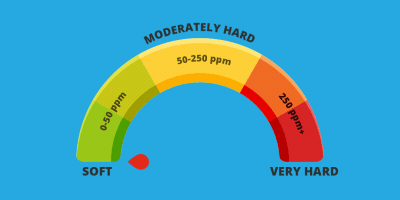 The water in Southampton is hard. Here's the reason…
Just like much of southern England – Hampshire included – the region around Southampton is subjected to hard water. It isn't this way because of the way water companies treat the water – it's because of nature and, in particular, the soil under the ground.
Southampton sits on mainly chalk and limestone soil, which is full of calcium and magnesium minerals. Rainwater in its natural state is soft. But once it seeps into the soil, those calcium and magnesium deposits have the effect of turning the water hard from soft.
For anyone living in Southampton who isn't a big fan of the hard water flowing through the mains supply, the most effective way to combat this is to have a water softener installed in the home. The benefits will be immediate. Skin and hair love soft water because it doesn't dry them out. Quite the opposite, in fact! They feel soft and shiny after being washed in soft water. Laundry, too, will be soft to the touch and not starchy with the colours drained out, which is what happens with hard water.
Water softeners are first class at getting rid of limescale build up that occurs in household appliances and pipework when hard water is around. Keeping kitchens and bathrooms clean is much more straightforward with soft water, plus you'll spend a lot less on cleaning products and detergents. Equally significant, you can control your energy usage better with soft water. Boilers have to work less hard when not clogged up with scale – which means they last longer and cost less to run, thereby reducing fuel bills.
The water hardness measurement for Southampton is about 280 parts per million (ppm). Any reading above 200ppm is said to be hard. So, Southampton is right up there in terms of locations with a high water hardness level.
Southampton – an Overview
Annual rainfall: 32.36inch or 820mm.
Southampton is a major port city in Hampshire, situated 70 miles south-west of London and 15 miles west of Portsmouth. The whole area around Southampton and Portsmouth is largely built up and includes the towns of Havant, Waterlooville, Eastleigh, Fareham and Gosport. At the 2011 census, the unitary authority area of Southampton had a population of 253,651.
Southampton sits at the confluence of the Rivers Test and Itchen, with the River Hamble meeting up to the south. The city is home to the longest surviving stretch of medieval walls in England.
It is also well-known for being the home port of some of the world's largest cruise ships. Celebrating the city's strong connections with the sea, the annual Southampton Boat Show is held every September, with over 600 exhibitors present.
Mains Drinking Water and Sewerage Services
The water in Southampton is supplied by Southern Water, as are the sewerage and wastewater services.
Interested in learning more about a water softener installation in Southampton?
Water softness of nearby locations
A water softener will give you...