How hard is the water in Woking?
Water hardness reading:
280 ppm (very hard)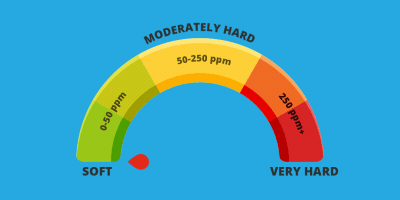 Why is the water in Woking so hard?
If you like soft water and you live in Woking, then you might be advised to get a water softener fitted in your home. That's because Woking, along with much of Surrey, naturally has very hard mains water. The chalk and clay soil, typical of the region, has the effect of turning soft rainwater hard due to the minerals it contains, such as calcium and magnesium.
The standard reading for water hardness is measured in parts per million or ppm. Any location with a reading of above 200ppm is deemed to have hard water. The nearer the figure gets to 300ppm, the harder the water becomes. Woking's reading is around 280ppm, which is moving towards 'tin hats in the shower' time! It certainly places the borough at the higher end of the scale. This can reduce slightly during dryer weather. But to give you an idea, soft water is classed as being under 100ppm – so that's why water softeners are often seen as essential household items.
Annual rainfall: 26.7inch or 678mm
Woking is a busy commuter town in northwest Surrey, England, which extends from West End to West Byfleet and has a population of 62,796.
Modern Woking was formed in the area to the south of the Basingstoke Canal opened in 1794. The town has many churches including, St. Peter's in Old Woking, which has the oldest door in Surrey and believed to be the third oldest door in the British Isles. Woking also has an Islamic presence and its Shah Jahan Mosque, constructed in 1889, was the first purpose-built mosque in the UK.
Woking's largest employer is the McLaren Group. The group is responsible for both McLaren Racing, famous for the McLaren Formula One racing cars, as well as McLaren Automotive, who build the classic McLaren F1 and Mercedes-Benz SLR McLaren supercars.
In recent times, mindful of flood risk, Woking has been subject of an ambitious project, The Hoe Valley Scheme, run in conjunction with the Environment Agency, to take hundreds of Woking homes away from the flood plain of the Hoe Stream.
Mains, drinking water & sewage services in Woking
Woking's mains drinking water and sewerage services are predominantly provided by Thames Water.
Interested in learning more about a water softener installation in Woking?
Water softness of nearby locations
A water softener will give you...