How hard is the water in Winchester?
Water hardness reading:
282 ppm (very hard)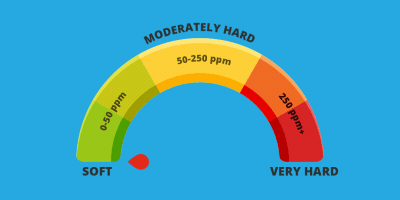 The water in Winchester is hard. Here's why.
The historic city of Winchester, like much of southern England, is subject to persistently hard water. Although it is widely assumed this is down to the water companies and the way water is treated, its hardness has nothing to do with us humans! The culprit is actually the soil. The whole region sits on soil which comprises clay, chalk and limestone, all of which is abundant with calcium and magnesium minerals.
Rainfall is naturally soft. However, when it permeates the soil, these calcium and magnesium minerals have the effect of turning the water from soft to hard. So, for anyone living in Winchester, if you don't enjoy hard water flowing through your taps all the time, the most prudent advice is to have a water softener fitted. With softened water on the go, your skin and hair will look and feel shinier and softer, since hard water is a major cause of skin dryness and flaky scalp. Laundry, too, reacts well when washed in soft water.
Also, a water softener will prevent damaging limescale accumulation in pipework and household appliances. Soft water also ensures washing machines and dishwashers work much more efficiently and make it much easier to keep kitchen and bathroom surfaces cleaner. Of major importance, a water softener will also protect your central heating system and keep spiralling household energy costs to a minimum.
The water hardness levels in Winchester are around 282 parts per million (ppm). This fluctuates a little depending on rainfall quantities but, fundamentally, that's still a high reading! Putting this into context, water hardness levels above 200ppm are deemed to be hard, with a 300ppm reading considered exceptionally hard. So, Winchester features right up there!
Annual rainfall: 29.30inch or 748mm.

Winchester is a cathedral city and the county town of Hampshire, situated at the western end of the South Downs National Park, on the River Itchen. It is 60 miles south-west of London and 14 miles from Southampton. The population at the 2011 census was 45,184. Taking into account the wider City of Winchester district, to include towns such as Alresford and Bishop's Waltham, the population is nearly 120,000.

The city's major landmark is Winchester Cathedral. It is also home to the University of Winchester and Winchester College, the country's oldest public school, which is still using its original buildings.

Boasting culture, incredible architecture, superb shopping, elegant dining, country walking and cycling, Winchester is both a desirable place to live and, unsurprisingly, one of the most expensive cities in the UK, according to the Lloyds Bank's Affordable Cities Review.
Mains, drinking water & sewage services in Winchester
The water services in Winchester are provided by Southern Water.
Interested in learning more about a water softener installation in Winchester?
Water softness of nearby locations
A water softener will give you...