How hard is the water in Felpham?
Water hardness reading:
280 ppm (very hard)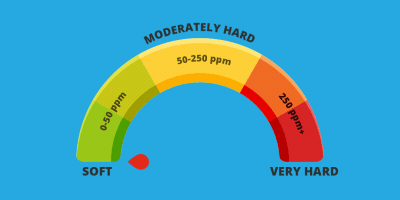 Why is the water in Felpham so hard?
Unless you have had a water softener fitted, you'll find that the mains water supply in Felpham is generally very hard – just like the rest of Sussex. The reason for this is the type of soil that is present throughout much of the south of England. It's either chalky or of clay, which contain plenty of calcium and magnesium deposits. They have the effect of turning soft rainwater hard. It's no surprise, therefore, that water softeners are so popular in this part of the world.
In Felpham, the water hardness level registers around 280 parts per million (ppm). Anything above 200ppm is deemed to be hard. The closer you get to 300ppm, the more you need to be thinking about wearing a tin hat in the shower! Water that's under 100ppm is considered soft. Generally, the more it rains, the harder the water becomes.
Annual rainfall: 36.5inch or 928mm
Felpham, often pronounced Felf-fm locally, is a West Sussex village in the Arun District, due to its proximity to the River Arun. Many people think of Felpham, which lies on the B2259 coastal road, as being part of Bognor Regis. But it is actually a parish in its own right, with a population of nearly 10,000 at the 2011 census.
The poet William Blake lived in Felpham and his famous anthem, Jerusalem, which contains the line "England's green and pleasant land", was inspired by Blake's appreciation of the Felpham countryside.
Meanwhile, the Felpham & Middleton Country Dance Club is one of the oldest English country dance clubs in the country.
Mains, drinking water & sewage services in Felpham
The mains water supply and sewerage services for Felpham are provided by Southern Water.
Interested in learning more about a water softener installation in Felpham?
Water softness of nearby locations
A water softener will give you...