How hard is the water in Wonersh?
Water hardness reading:
274 ppm (very hard)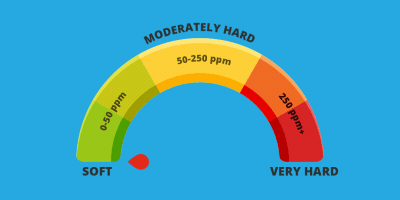 This is why the water in Wonersh is classed as hard.
If you live in Wonersh, we have to report that your water is going to be pretty hard. Sorry about that! Here's the reason. Throughout much of the south of England, including Surrey, the subsoil is predominantly of chalk and clay. This type of soil is rich in minerals like calcium and magnesium. When it rains, water is naturally in a soft state. However, once the rain seeps into the soil, these key minerals have the effect of turning the water hard. That's exactly why you experience hard water when it flows through your taps in the mains supply.
The most effective way to mitigate against hard water is by having a water softener installed. This will rid your home of all the negative effects of hard water – the limescale build-up, water staining, crusty laundry and dry skin, as examples.
The water hardness reading in Wonersh is about 274 parts per million (ppm). This figure can go up and down a little, depending on rainfall levels. Nevertheless, any reading over 200ppm is registered as hard and the nearer you get to 300ppm, this is considered exceptionally hard.
Annual rainfall: 19.65inch or 499mm.
Wonersh is a village in the Surrey Hills Area of Outstanding Natural Beauty. Around five miles south-east of Guildford. Flanked by two round hills, Chinthurst Hill to the north west and Barnett Hill to the east, the village itself stands about 50m above sea level.
Primarily a service sector economy, Wonersh also has three architecturally-listed churches within its boundaries, as well several notable homes, including Frank Cook's 1905 hilltop mansion, now used as a hotel, business and wedding venue.
In 2001, the Wonersh parish consisted of 3,297 residents of which around 20% were aged over 65.
Mains, drinking water & sewage services in Wonersh
The mains water and sewerage services for Wonersh is under the control of Thames Water.
Interested in learning more about a water softener installation in Wonersh?
A water softener will give you...