How hard is the water in Banstead?
Water hardness reading in Banstead:
280 ppm (very hard)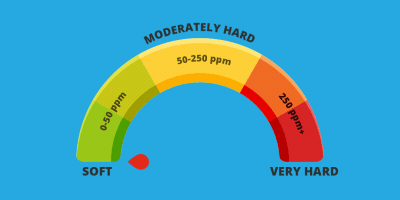 If you live in Banstead, your water is hard. This is why.
For residents of Banstead in Surrey, as with most parts of southern England, it's a case of living with hard water. This can be a nuisance and many people wrongly assume hard water is due to the way that water is treated. However, the water companies aren't to blame. The reason why water is hard is because of the soil. Beneath Banstead, the soil is predominantly of clay, which is rich in minerals, such as calcium and magnesium.
Rainwater is naturally soft, but when it comes into contact with this mineral abundant soil, the water becomes hard. So, if you live in Banstead and you would prefer to have soft water flowing through your taps, the best advice is to have a water softener installed. Soft water is one of life's affordable luxuries. It's far better to bathe and shower in softened water, as it's good for the skin and hair, helping to prevent dryness. Your laundry will also feel far less starchy, retaining its vibrancy and colour for longer. In addition, soft water combats limescale build up in household appliances and pipework. Plus, you'll notice a big difference when it comes to cleaning kitchen and bathroom surfaces – they'll stay looking shiny and new for longer when you use soft water – and that will ensure you make big savings over time on those pricey household cleaning products.
The water hardness level for Banstead registers about 280 parts per million (ppm). It varies to a degree, depending on how often it rains; more rain means a higher reading. Any measurement above 200ppm is considered hard. At 280ppm, the mains water supply in Banstead is towards the top end of the hardness scale.
Annual rainfall: 15.28inch or 388mm.
The affluent town of Banstead lies in the Surrey borough of Reigate and Banstead, 3 miles south of Sutton, 8 miles south-east of Kingston upon Thames and approximately 13 miles from Central London. At the 2011 Census, the population of Banstead stood at 16,666.
The area historically had many other hamlets, stretching as far as Reigate. The neighbouring ward of Nork contains Banstead station, whilst parts of Walton-on-the-Hill and Chipstead are also part of the wider Banstead catchment area.
Nearby Banstead Downs is a Site of Special Scientific Interest (SSSI), covering over 400 acres of land and is home to the rare Small Blue butterfly.
Arthur Tedder, Marshal of the RAF and the actor and tap dancer Lionel Blair both lived in Banstead.
Mains and Drinking Water in Banstead
If you live in Banstead, the mains water and sewerage services are provided by Thames Water and Surrey and East Surrey Water.
Interested in learning more about a water softener installation in Banstead?
A water softener will give you...