How hard is the water in Littlehampton?
Water hardness reading:
240 – 280 ppm (very hard)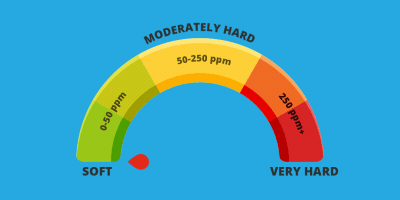 Why is the water so hard in Littlehampton?
If you live in Littlehampton and have noticed lots of limescale build up around your taps and appliances, that's because the water is very much on the hard side! It didn't start off that way when it fell as rain but, like many parts of the south of England, the water flows down from the chalky soil of the Downs, which turns it hard.
With a water hardness reading of anywhere between 240 and 280 ppm (parts per million), Littlehampton's supply registers towards the top end of the scale. Anything above 200 ppm is deemed hard. So, it's not surprising that many local residents choose to have a water softener installed, to provide much needed respite!
Littlehampton– an Overview
Annual rainfall in Littlehampton: 30.75inch or 781mm.
The seaside resort town of Littlehampton, with its pleasure harbour, is the largest populated town (55,000 residents) in the Arun District, situated on the mouth of the River Arun, 19 miles west of Brighton and 10 miles east of Chichester. Bognor Regis and Worthing lie either side along the coast.

In the 18th century, Littlehampton progressed from being a fishing community into a popular to a holiday destination, with the likes of the poet Lord Byron and artist John Constable known to have spent time there. By the 1920s, it was known as The Children's Paradise.
In 1967, the town attracted attention by becoming the base for the first ever Blue Peter lifeboat.
Famous names associated with Littlehampton include Anita Roddick, founder of The Body Shop and the actor and comedian Ronnie Barker.
The mains drinking water supply in Littlehampton
The majority of homes in the district are supplied with drinking water directly from the mains. In the Arun District, the eastern part is serviced by Southern whilst Portsmouth Water looks after the western sector. The mains water supply to Littlehampton, as well as its sewerage services, are provided by Southern Water. 
Interested in learning more about a water softener installation in Littlehampton?
Water softness of nearby locations
A water softener will give you...