How hard is the water in West Wittering?
Water hardness reading:
280 ppm (very hard)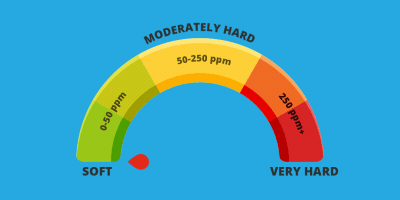 Here's why the water in West Wittering is hard
If you live in West Wittering, unless you have a water softener, your water is going to be hard! The chalky Sussex soil makes it impossible to avoid hard water. So, what's the connection between the chalky underlying soil and hard water? The reason is that this type of soil, found in large areas of the south of England – especially along the coast – contains minerals like calcium and magnesium. When rainwater, which is soft, comes into contact with these minerals, it becomes hard.
We measure water hardness level in parts per million (ppm). In West Wittering, the reading averages out at around 280ppm. This is regarded as big-time hard, given that any reading above 200ppm is categorised as hard. Don't worry, you won't need a tin hat in the shower, but you might want a water softener to combat the downside of hard water – perpetual limescale, dry skin, damage to household appliances etc.
West Wittering – an Overview
Annual rainfall: 32.8 inch or 832mm
West Wittering is a village located on what's known as the Manhood Peninsula, close to the mouth of Chichester Harbour on the B2179 road 6.5 miles southwest of Chichester and close to the border with Hampshire. The village has its own primary school and, in the 2001 census, the population was recorded at 2,684.
Chichester Harbour, which is a Site of Special Scientific Interest (SSSI) within the parish, is a wetland of international importance, a Special Protection Area for wild birds and a Special Area of Conservation. Bracklesham Bay, which is part of the SSSI, runs in between the coastline and the village.
West Wittering's sandy beach is popular with locals and tourists and has been described as having excellent water quality.
Mains, Drinking Water & Sewerage Services in West Wittering
The mains water supply for West Wittering is provided by Portsmouth Water.
Interested in learning more about a water softener installation in West Wittering?
Water softness of nearby locations
A water softener will give you...