How hard is the water in Weybridge?
Water hardness reading in Weybridge:
278 ppm (very hard)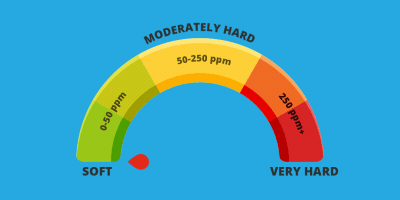 Your water is hard if you live in Weybridge?
Like the majority of southern England where hard water prevails, Weybridge falls very much into this category. This is chiefly due to the type of soil.
Throughout Surrey and elsewhere in the south-east, chalk and clay soil is just about everywhere, which is full of minerals like magnesium and calcium. When it rains, the water is actually soft. However, once it reaches the soil, straightaway the magnesium and calcium get to work and transform it into hard water. That's nature for you!
The only way to combat hard water is to have a water softener installed in your property. Water softeners are great at removing limescale that you get round taps and sinks, as well as ensuring that your skin and hair stays soft after washing.
Softened water also stops pipework and household appliances, like dishwashers and washing machines, getting clogged up with scale and will keep them working better for longer.
Weybridge registers a water hardness level of 278 parts per million (ppm). This can go up and down slightly, depending on how much it rains but, even so, any measurement over 200ppm is deemed to be hard. At 278ppm, Weybridge is consistently placed towards the top end of the hard water league.
Annual rainfall: 25.28inch or 642mm.
The town of Weybridge is in the Borough of Elmbridge in Surrey around 17 miles southwest of central London. The name derives from a crossing point of the River Wey, which flows into the River Thames close to the north of the town centre. Weybridge also includes St George's Hill and Brooklands, home of the famous motor racing circuit, to the south.
Throughout most of the 20th century, Weybridge was a centre for the aerospace industry, featuring manufacturers like Vickers, Avro, Sopwith and Blériot. Today, the European headquarters of Sony as well as Proctor & Gamble's UK base are at Brooklands.
In 1890, Weybridge became the first town in Britain to have electric street lighting using incandescent filament bulbs. During the 1960s, Beatles John Lennon and Ringo Starr had houses at St George's Hill.
Mains and Drinking Water in Weybridge
Thames Water are the chief providers of mains water and sewerage services for Weybridge.
Interested in learning more about a water softener installation in Weybridge?
Water softness of nearby locations
A water softener will give you...