How hard is the water in Dorking?
Water hardness reading:
286ppm ppm (very hard)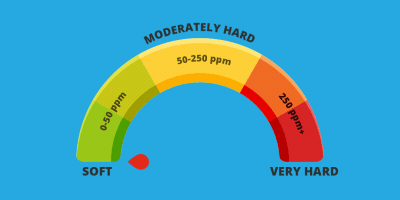 Why the water in Dorking is so hard
Just like the overwhelming county of Surrey, Dorking is associated with having very hard water. Why? Because the chalky and clay soil in the area, characteristic of much of the southeast of England, contains an abundance of minerals, like calcium and magnesium. When it rains – at which point water is soft – once it seeps into the soil, the calcium and magnesium have the effect of turning the water hard. And that's how it will stay every time it flows through your taps – unless, of course, you have a water softener installed in your property, which will immediately sort out the problems that hard water causes.
The hardness of water is measured in parts per million (ppm). Any readings above 200 ppm are deemed to be hard, so with Dorking topping out at around 286ppm, this is very much at the high end of the scale. Not quite time for a tin hat in the shower – but getting on that way!
Annual rainfall: 28.7 inch or 728mm.
Dorking is a market town in central Surrey about 11 miles east of Guildford. The town is surrounded on three sides by the Surrey Hills Area of Outstanding Natural Beauty, close to Box Hill and Leith Hill.
The basic plan of the town centre hasn't altered since medieval times with the High Street, West Street and South Street meeting at Pump Corner, forming a " Y " shape. For centuries, a market is thought to have been held at least weekly in Dorking, highly regarded for the poultry it traded. Today, the Dorking breed of domestic chicken is named after the town.
The author, Daniel Defoe, lived in Dorking as a child, as did six of the Mayflower Pilgrims, before they set sail for the New World.
Several Sites of Special Scientific Interest (SSI) are close by, including the Mole Gap to Reigate Escarpment. Meanwhile, The National Trust owns several properties in the area, including Box Hill, Leith Hill Tower and Polesden Lacey.
Mains, drinking water & sewage services in Dorking
Dorking's mains drinking water and sewerage services are predominantly provided by Thames Water.
Interested in learning more about a water softener installation in Dorking?
Water softness of nearby locations
A water softener will give you...