How hard is the water in East Dean?
Water hardness reading:
280 ppm (very hard)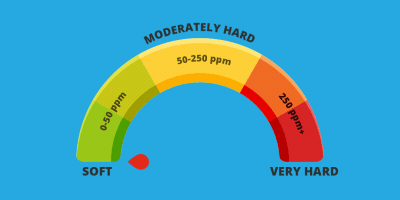 The water in East Dean is registered as hard – here's why.
If you live in the village of East Dean, then your mains water is going to be hard. Just like the rest of West Sussex and neighbouring counties, East Dean lies on predominantly chalky soil. This type of soil contains plenty of calcium and magnesium minerals. When it rains, the water is actually soft but, once it seeps into the chalk, these minerals turn the water hard.
Although hard water isn't dangerous it can be a pain in the neck, as it causes limescale build up, constant staining on kitchen and bathroom surfaces and also downgrades boilers and household appliances, like washing machines and kettles. The best way to combat hard water is to have a water softener installed in your home.
The water hardness level in East Dean registers around 280 parts per million (ppm). If water measures over 200ppm, it is classed as hard. To be soft, it needs to read under 100ppm – that's where a water softener comes in handy.
Annual rainfall: 30.0inch or 761mm.
The village of East Dean in West Sussex lies in a valley in the South Downs, about 5 miles north east of Chichester on a narrow road between Singleton and Upwaltham. The East Dean village pond is thought to be the source of the River Lavant. In the 2011 census, the parish population was 206.

The parish church, pub and most of the local houses are built of flint, many featuring brick quoins and window dressings. Part of the grounds of nearby Goodwood House are in the parish.

On 17 June 1940, an RAF Transport Command Bristol Bombay aircraft crashed in poor weather in high ground in the parish, killing all five members of its crew.
Mains, drinking water & sewage services in East Dean
East Dean's mains water and sewerage services is under the control of Portsmouth Water.
Interested in learning more about a water softener installation in East Dean?
Water softness of nearby locations
A water softener will give you...