How hard is the water in Shere?
Water hardness reading:
282 ppm (very hard)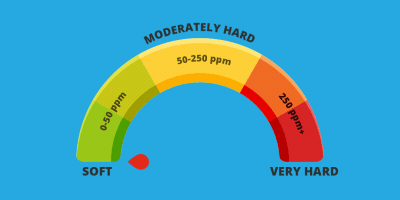 Why is the water in Shere so hard?
Although hard water isn't all bad – it's best when used for drinking – it does have plenty of downsides. It causes persistent limescale, makes it devilishly difficult to keep kitchen and bathroom surfaces clean and it can play havoc with household appliances. Residents of Shere will know all about this, because the water that flows through the mains in this part of Surrey is very hard. You can blame it on the chalky and clay soil in the area. It contains loads of calcium and magnesium deposits and when rainwater comes into contact with them, it turns from soft to hard. The most effective way to stave off hard water is to have a water softener installed. It's not surprising that so many properties in this part of the world have chosen to have soft water systems.
In Shere, the water hardness reading is measured at around 282 parts per million (ppm). This figure can vary a little, according to rainfall amounts, but anything consistently over 200ppm is registered as hard water. It would have to be under 100ppm to be classed as soft.
Annual rainfall: 19.65inch or 499mm.
Shere is a charming village in Surrey, just under five miles south-east of Guildford and about six miles west of Dorking, bypassed by the A25. It's a small, still partly agricultural village with the River Tillingbourne running through its centre. Shere retains many traditional English features, with a central cluster of old village houses and shops that include a blacksmiths and trekking shop. There is also a tea house, art gallery, two pubs, a Norman church, a museum that opens at weekends and an infant and nursery school that achieves 'outstanding academic results' (Ofsted 2015).
There are 34 listed buildings that date back to before 1830 within the village centre conservation area.
Mains, drinking water & sewage services in Shere
Thames Water provide the mains water and sewerage services for Shere.
Interested in learning more about a water softener installation in Shere?
Water softness of nearby locations
A water softener will give you...