How hard is the water in Burpham?
Water hardness reading:
278ppm (very hard)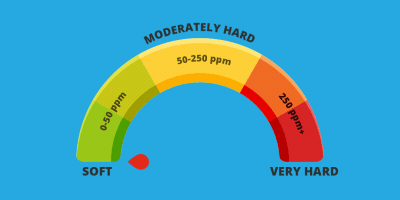 What makes Burpham's water as hard it is?
When it rains in Surrey, the water is soft. But it doesn't stay that way! The issue is what happens to rainfall when it comes into contact with the ground. This is the point it turns hard and here's the reason. In Burpham, like pretty much everywhere else in the county, as well as large parts of the southeast of England, the underlying soil is made up of chalk or clay. Within these components are an abundance of chalk and clay minerals. Once water makes contact with these minerals, it switches from its original soft state to hard. If you don't like hard water flowing through your taps for ever more, the smart move is to have a water softener fitted in your property. Problem solved!
The water hardness reading for Burpham is about 278 parts per million (ppm). This measurement can alter slightly, depending on rainfall levels. The more it rains, the harder the water becomes. FYI, any reading over 200ppm is considered to be hard. Interestingly, with a water softener in situ, the ppm reading will fall to virtually zero.
Annual rainfall: 37.01inch or 940mm.

Although Burpham has an historic village centre of its own, with a school and shops, it is actually a suburb of Guildford.
Burpham is bordered by the neighbourhoods of Merrow and Jacobs Well. It is separated from Merrow by the railway line between Guildford and Effingham Junction. Bowers Lock is a short distance from the village, on the River Wey Navigation.
The focal point of the village and community life is the Sutherland Memorial Park, a 16-acre open space. Its formal landscaped gardens are a popular area for recreation, alongside the many sporting facilities and activities the Park provides. Within its boundaries, an area has also been set aside and planted as a wildflower meadow.
Mains and Drinking Water in Burpham
The mains water and sewerage services in Burpham are under predominantly under the control of Thames Water.
Interested in learning more about a water softener installation in Burpham?
A water softener will give you...