How hard is the water in Farnham?
Water hardness reading:
280 ppm (very hard)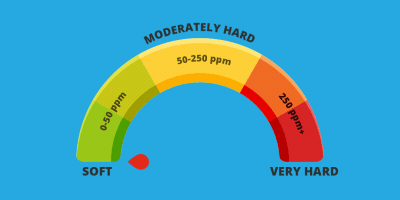 Here's why the water in Farnham is so hard
Like the majority of towns in Surrey, Farnham is a location where hard water abounds. That's why so many households choose to have water softeners installed – to combat the worst excesses of hard water, which can be damaging to one's skin and hair, cause persistent limescale build-up and lead to the downgrading of household appliances, like boilers and washing machines. Hard water is caused by the build-up of minerals, like calcium and magnesium, which is contained in the soil that is ever-present in the Farnham area.
The water hardness level for Farnham registers around 280ppm (parts per million). On a scale of 0-300ppm, anything under 100ppm is deemed to be soft, whereas anything above 200ppm is said to be hard. So, Farnham's reading is at the upper end of the scale. Not quite time for a tin hat in the shower – but getting on that way!
Annual rainfall: 23.90 inch or 607mm
Farnham is an attractive market town in Surrey, England, within the Borough of Waverley, right on the border with Hampshire, 11 miles west of Guildford and about 28 miles east of Winchester. Farnham is of historic interest, featuring many old buildings, including a number of Georgian houses. Farnham Castle, built by the Normans, overlooks the town. Close by, are the ruins of Waverley Abbey, Moor Park House and Mother Ludlam's Cave. It is drained by the northern branch of the River Wey at this point and only navigable by canoe.
Farnham borders the Surrey Hills Area of Outstanding Natural Beauty and the North Downs Way, which makes the town is an ideal tourist base to explore Winchester, as well as the Mid-Hants Railway and canal trips on the Basingstoke Canal and Wey Navigation.
Mains, Drinking Water & Sewerage Services in Farnham
Farnham's mains drinking water and sewerage services are predominantly provided by Thames Water.
Interested in learning more about a water softener installation in Farnham?
A water softener will give you...