How hard is the water in Barnham?
Water hardness reading:
280 ppm (very hard)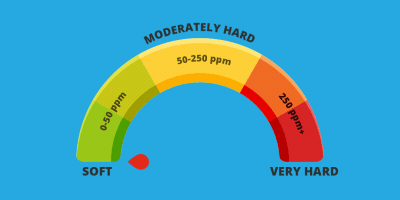 Why is the water in Barnham so hard?
Like most of West Sussex, Barnham is renowned for having very hard water. The reason for this is that the county predominantly stands on chalky soil, which contains calcium and magnesium deposits. These are minerals which turn initially soft rainwater hard. The best way to combat hard water in your home is to have a water softener installed.
In terms of water hardness, anything in the region of 300 ppm (parts per million) is considered hard. Under 100 ppm is moving towards soft. With Barnham registering around 280 ppm, this is definitely at the high end of the scale. It's not quite tin hat time in the shower, but water doesn't get much harder than this! Incidentally, the more it rains, the higher the reading.
Barnham is a bustling, semi-rural village in the Arun district of West Sussex which, since 2019, has been known as the parish of Barnham and Eastergate. It is situated about five miles north of Bognor Regis and midway between Chichester and Arundel, with the South Downs national park located nearby. At the 2011 census, including the ward of Aldingbourne, Barnham's population was 8627.
Steeped in history, the parish church of St Mary dates back to the 11th century.
Barnham's most recognisable building is its windmill, built in 1827. At the heart of the village lies the train station, which is on the main Chichester to Brighton line. For many travellers, somewhat unfairly, the only time they hear reference to Barnham is when the announcement "change at Barnham for Bognor Regis" comes over the tannoy!
Mains, drinking water & sewage services in Barnham
Barnham's mains drinking water and sewerage services are predominantly provided by Southern Water.
Interested in learning more about a water softener installation in Barnham?
Water softness of nearby locations
A water softener will give you...